10 Great Champagne Houses to Visit in 2018
I have been lucky enough to have visited over 100 different Champagne houses since launching Glass of Bubbly, from a quick pass-by visit and brief tasting to a night or two sleep over at a Champagne house's own bed and breakfast along with tasting wines with selected food pairings. For anyone yet to visit the wine growing region of Champagne, it is truly a most wonderful adventure and a dream location for anyone who loves their fizz, it is certainly a holiday destination that a couple of weeks will only ever touch the surface of.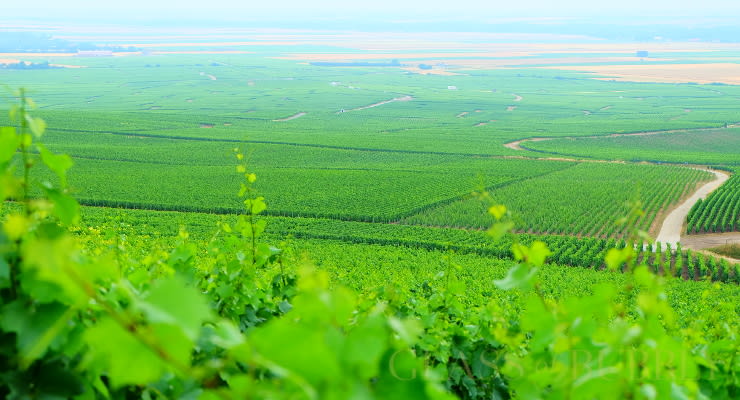 For sure, anyone who is making that quick visit / weekend break then the two main places to visit would be Reims and even more so Epernay as these two locations will hold some of the biggest and most well known Champagne houses with the likes of Mumm, Louis Roederer, Tattinger and Veuve Clicquot in Reims and Moet & Chandon, Perrier Jouet and Pol Roger in Epernay. If you have very limited time, ie just a day visit, then I would certainly say that to experience as much Champagne history as possible then you should opt for Epernay and certainly spend your morning / afternoon on the Avenue de Champagne with it's many houses all just steps away from each other.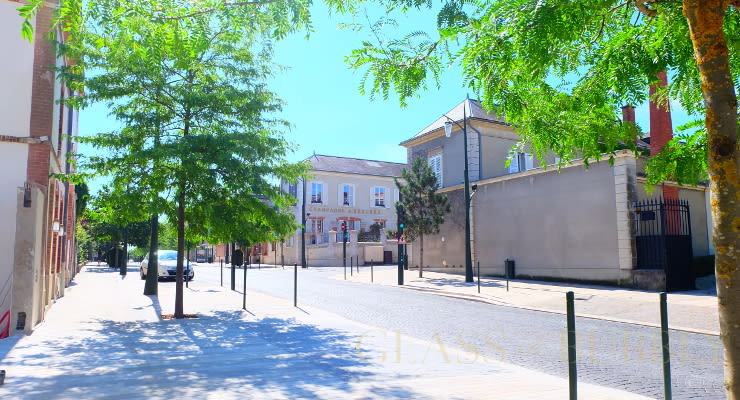 The beauty of any wine region is that it is not just about finding a bottle of wine on the supermarket shelf and reading the back label once the price has tempted you to do so, there is so much more to explore. The Champagne wine growing region, with its 100 main labels and 19,000 wine growers, holds thousands of km's of underground cellars, beautiful châteaux, amazing tasting rooms, incredible wine making methods, wonderful rolling hills of vines, superb restaurants and more.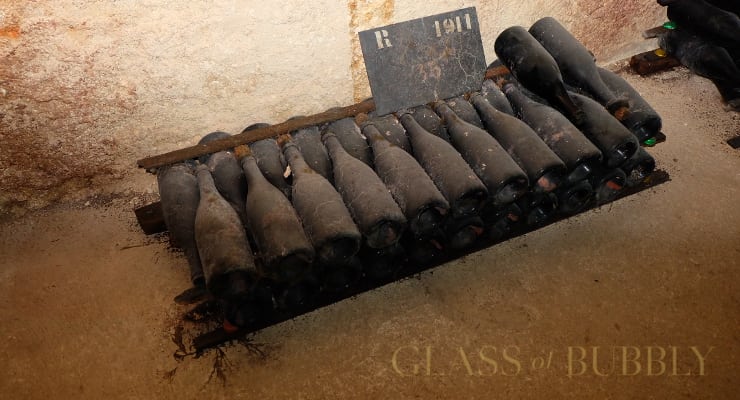 What if you wish to explore some of the not so well known tourist routes and maybe discover something new and a varied overview of what Champagne houses are really like from the corporate to the family growers, then might I suggest this selection of houses that each one I have had a full tour of and met the owners / families.
Champagne Mumm. 34 Rue du Champ de Mars, 51100 Reims, France:
Though I will admit to preferring Epernay over Reims, without question no trip to Champagne would be complete without visiting the unofficial capital of the region that is Reims which for many will be the first destination if coming over from the UK via Eurostar. A city that many might think is rather similar to many other industrial cities across France and sometimes you'll not be sure you are in fact in the heart of Champagne in amongst the factories, retailers, takeaway MacDonalds and more… but around corners of varied streets and mostly towards the City centre will be some of the major Champagne houses that many of us will know.
I have been to Reims many times and enjoy both the visits to the Champagne houses and also the shopping that can be done with some recognisable names on the main high street to visit. Another sure place to visit is, of course, the cathedral which is world famous and such a great architectural treasure of the region and indeed France. A glass of Champagne at one of the bars opposite is a perfect place to grab your first selfie to share on social media…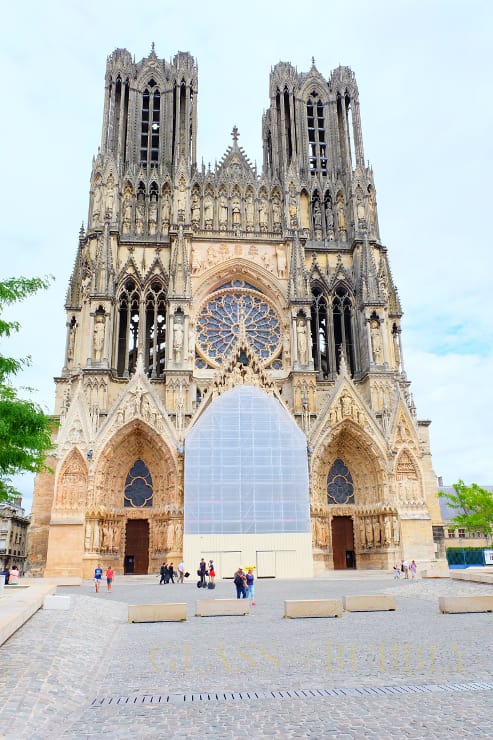 Just a fairly short and relaxed walk away (19min / 1.5km) is the Champagne house of Mumm. Here is your second sure selfie photo opportunity with the famous Mumm & Co logo on the black iron railings opposite the winery.
Champagne Mumm offers consumers the opportunity to take a tour and have a private tasting at their location in Reims, their deep dark chalks cellars include a guided tour to enable you to explore the history of Champagne making and how it is stored where you will also be given a glass to taste and enjoy. Champagne Mumm offers varied experiences during the week to visit the cellars as well as a weekend cocktail experience.
Veuve Cliquot. 13 Rue Albert Thomas, 51100 Reims, France:
Located just off one of the city's major busy roundabouts lays one of the world's most famous and recognisable labels in Veuve Clicquot. I personally was surprised the first time I visited their location on Rue Albert Thomas as I was expecting, just like the brand, a very prominent position and stand out location / premises, whereas it is fairly miss-able in my mind. Though, once you have found the car park and have entered the building then this is where the experience begins.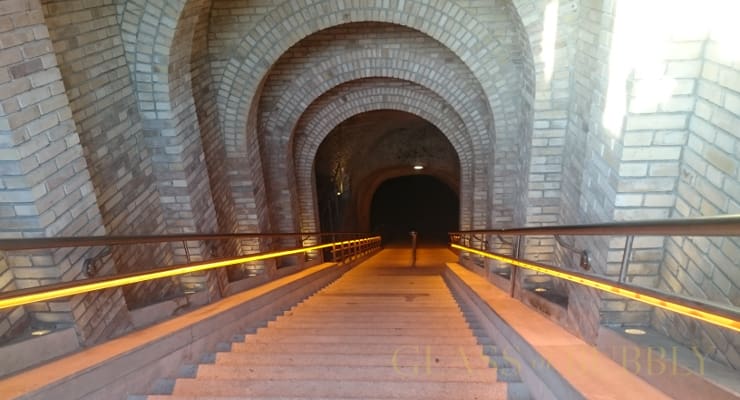 The steps down to the cellars are impressive and that dark, damp and chilled atmosphere hits you as you suddenly hit the chalk cellars and stand in amongst thousands of riddled bottles of Veuve Clicquot – No you are not in a dream and yes you are feeling exactly how Charlie did when he entered the Chocolate Factory – It's a heavenly moment.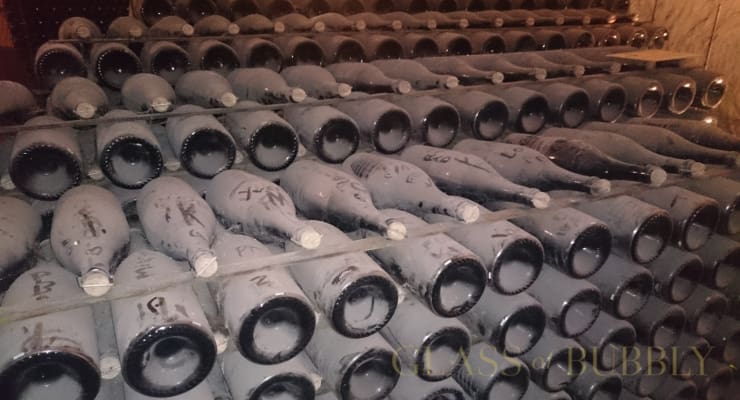 Once again there are guided tours available for the public (you may have to pre-book) and the chance to enjoy a glass of bubbly during your hour long visit. They also offer private tours plus they have a large underground cellar dedicated to holding events – I remember a great party I enjoyed at Veuve Clicquot in the brick vaulted cellars as part of a private event with fine live music, delicious canapes and free flowing Champagne.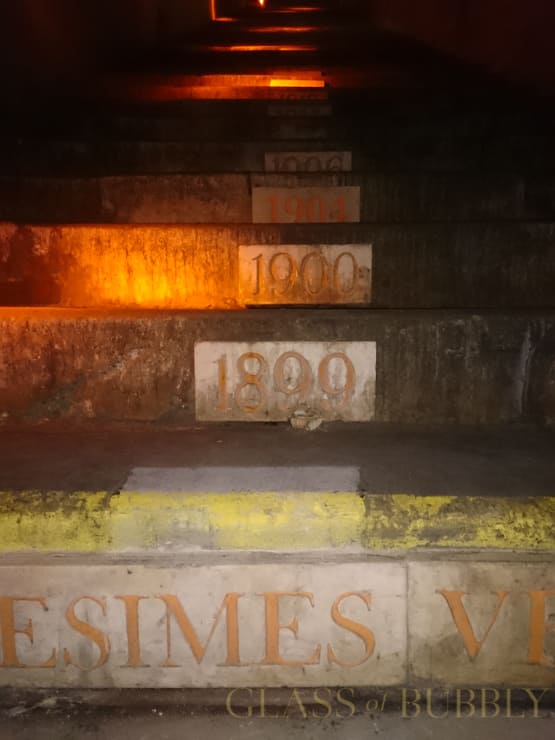 Remember to check out the steps that are marked with each vintage year from Veuve Clicquot which offers another selfie moment for many.
Champagne Pierre -Trichet. 6 Rue de Tours sur Marne, 51150 Bouzy, France:
Located just a few minutes drive South of Reims is a smaller and lesser known Champagne label (grower), Pierre-Trichet whose award winning wines and bed and breakfast makes it a perfect stop off point to recover after a busy day in Reims.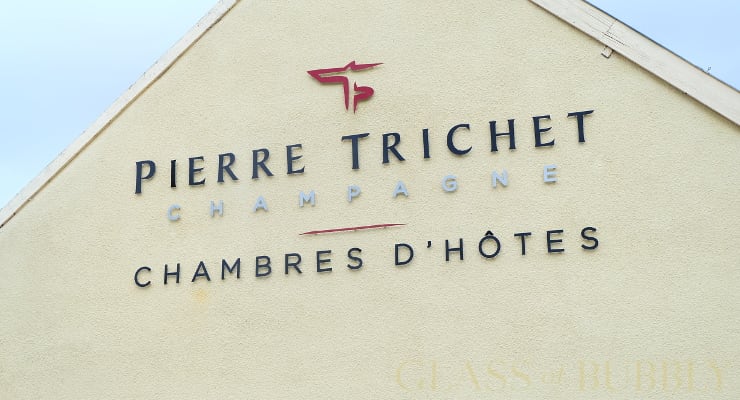 With vineyards that overlook the city of Reims and the cathedral viewable by the naked eye, this grower Champagne label holds over half a century of winemaking history and today you can not only enjoy a comfortable night stay, you can also visit their chalk wine cellars and a tasting with the owners and winemakers in their tasting room. You can also have a look through part of the Champagne producing process which is done on site to include modern day riddling techniques and labelling.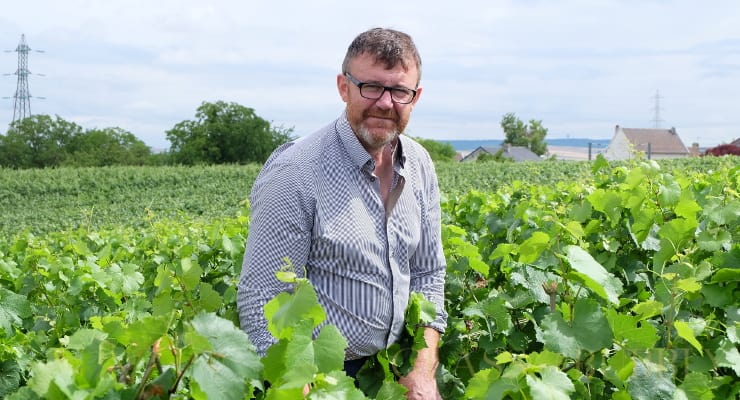 I suggest a relaxing late afternoon / early evening at their chambres d'hotes whilst you taste through their main labels with Pierre Trichet himself.
Champagne Delavenne Père et Fils. 6 Rue de Tours sur Marne, 51150 Bouzy, France:
You'll no doubt be fresh and raring to go following a good night sleep and I suggest taking a South Easterly drive down to the Cotes de Noirs region and another family grower Champagne with the multi award winning (Glass of Bubbly awards 2017) Delavenne Père et Fils. Located in the village of Bouzy alongside many other Champagne wineries (it really is a packed community of Champagne houses in this village), Delavenne Père et Fils is a house that harvests their own grapes of their own vineyards and press them at their estate, in their family press (many grower Champagne wineries will send their grapes to be pressed at a local co-operative press).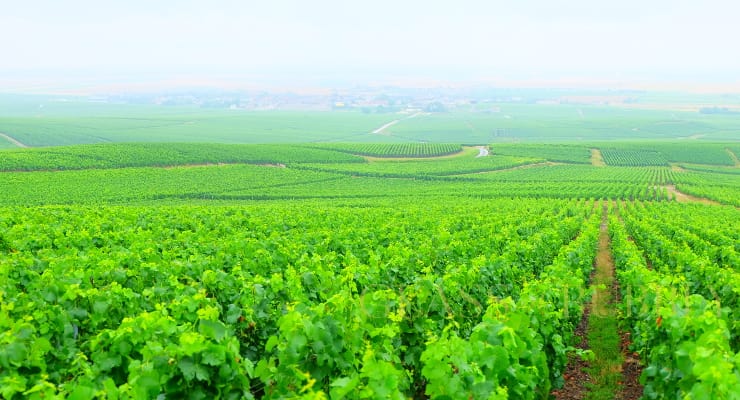 Located in the thick of a wine growing region, vines are everywhere with nearly every field a wash of neatly arranged rows of Champagne grape growing vines with small clusters of houses in the distance of other local village communities.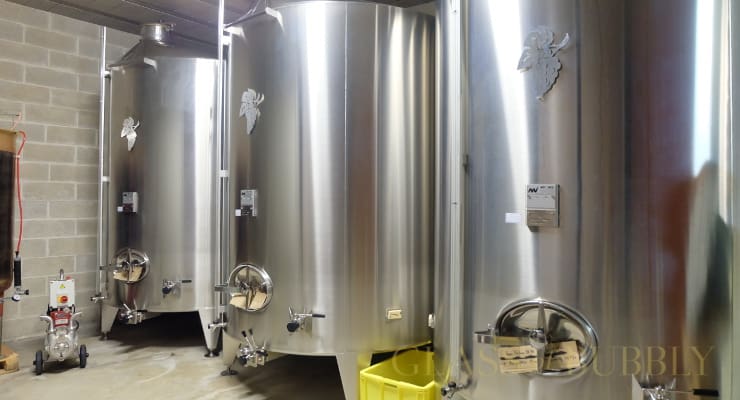 Our recent Glass of Bubbly awards saw Delavenne Pére et Fils take home three gold medals and certainly impressed our 36 international judges which was an incredible success story from such a small producer handling the whole Champagne process from vines to bottle. When you meet any winegrower you really appreciate the commitment and passion that go into making what ends up in our glass, I certainly got that impression with Jean-Christophe Delavenne and his wines.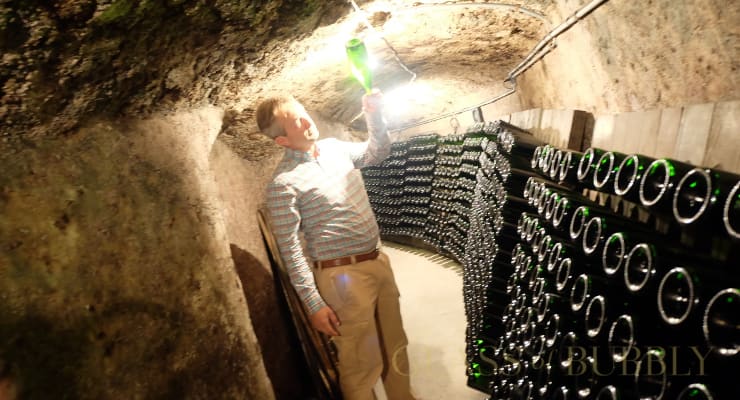 Explore the cellars, allow Jean-Christophe to show you his wines and how they are made and certainly make sure you have tasted his Champagne (I suggest also to taste their still red – Bouzy Rouge).
Champagne Henri Giraud. 71 Boulevard Charles de Gaulle, 51160 Aÿ, France:
From Bouzy I now take you slightly West towards a famous Champagne village and highly respected within the wine industry, Aÿ, and just off from the main Route D'Epernay D road to Champagne Henri Giraud.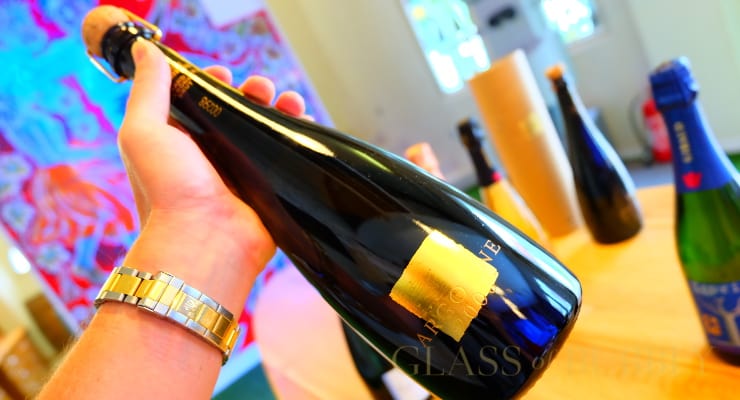 Here is a refreshing and though steeped in a long span of history, a new way of thinking Champagne producer that is respected globally with many fans within wine connoisseur circles. They produce a magnificent selection of Champagne from some of the best located vineyards in the region – I suggest to try as many of them as you can when you stop off for one of their guided tours and tastings.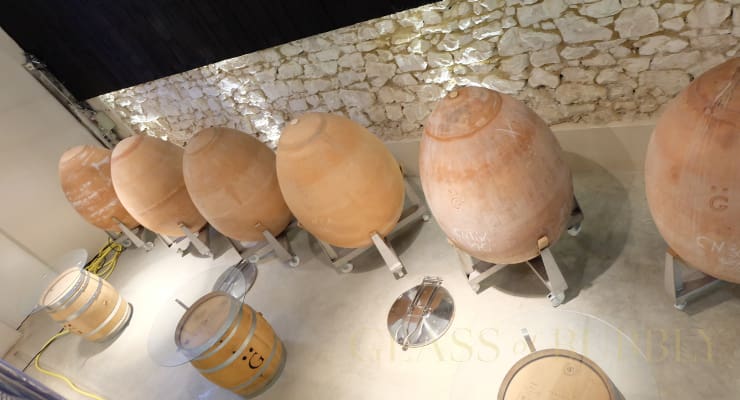 Be prepared for something a little different from Henri Giraud and please do not think that during your guided tour you have been transported to the film set of Aliens – You will see egg style tanks that hold their wines (helping to improve the motion of the less). They are a brand that is improving on traditional methods in making Champagne rather than embracing the new, very unique in the way they are going about producing their 250,000 bottles a year, but nonetheless achieving exceptional results. I got the impression that I was seeing a secret no go area of slightly eccentric, yet wizardry winemaking in motion and very different to any I had ever seen before in Champagne.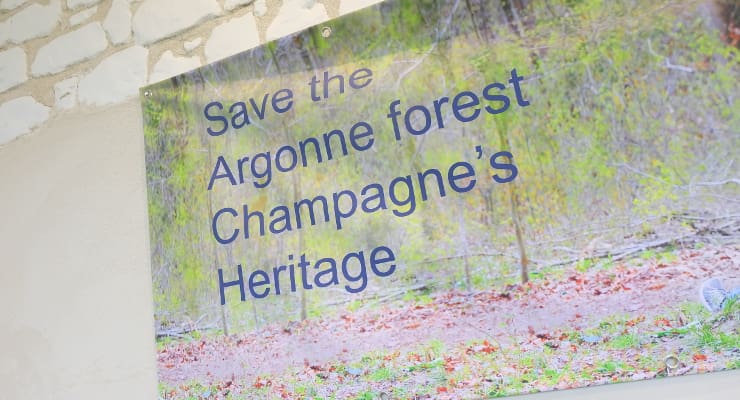 What is important and also good to know from Henri Giraud is that they are very focused too on the environment with many replanting of tree operations in the local region – You certainly can see and update yourself on their endeavours when you visit their winery and watch their movies that showcase their latest activities.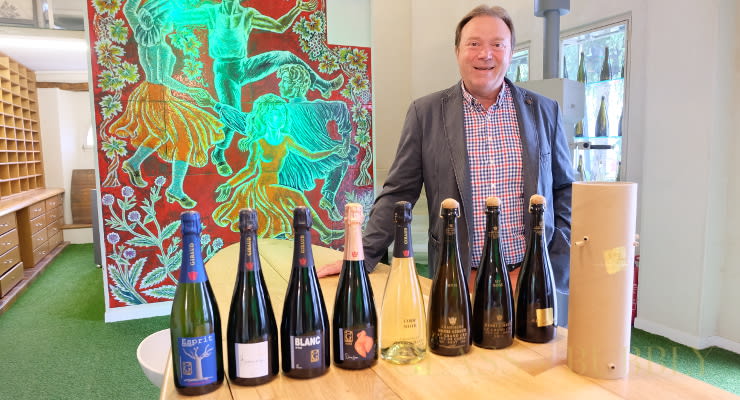 You may also get lucky and meet Claude Giraud (the owner of Maison Henri Giraud Champagne) who is a highly respected man within Champagne – I was fortunate to enjoy a glass or two of his bubbly with him during my last visit and Claude was also kind enough to attend the Glass of Bubbly Awards 2017 to hand out one of the prestigious awards. You will find Henri Giraud a Champagne house very different to any other, very up to date and experimental, certainly nature loving and ultimately a fine portfolio of fizz to enjoy.
Champagne Michel Gonet. 37 Avenue de Champagne, 51200 Épernay, France:
Now I suggest we venture into Epernay and it is the Avenue de Champagne that is calling! You will not be disappointed to either drive up or I suggest, park up and walk the length of this great and highly expensive to insure street (expensive due to the millions of bottles of Champagne stored beneath the street in deep chalk cellars). It will be a gaze to the left and another to the right every few seconds as you marvel at the splendour of the buildings and point excitedly at the world famous name you recognise – Here you can certainly get lost in translation as you battle your temptations to visit each and every Champagne house in front of you, but alas we have to pick one… OK, I will do two…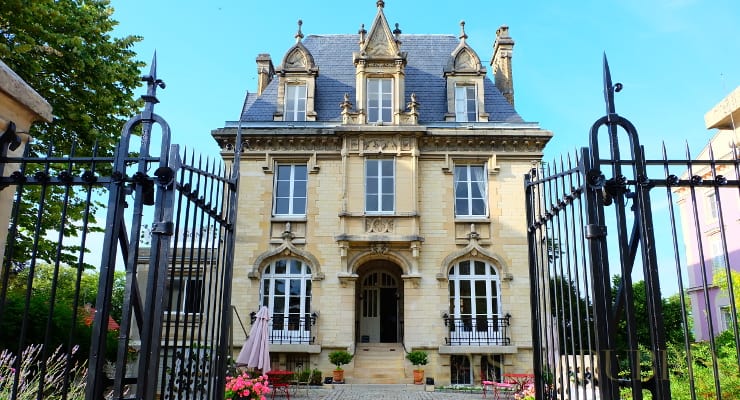 First, we have a charming and prestigious visit to Champagne Michel Gonet. From all the properties on this street, this is one that I have always been attracted to and especially the wonderful gardens at the back. Just walk in from off the street and you can sit down in its wonderful cobbled front gardens and enjoy a lazy half hour tasting their Champagne which I do admire.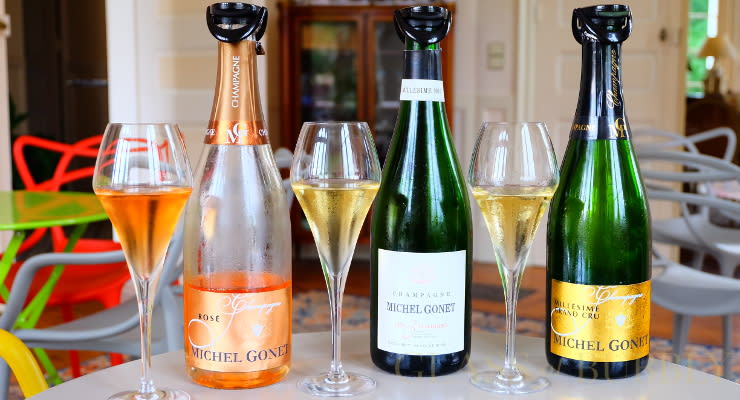 I remember my first visit and having never met this producer before was met by a senior gentleman who once he realised I was from the press sat me down in one of the rooms inside (I had, in fact, booked an appointment a month or so back, but it had been forgotten). I was then given a table full of fine Champagne to taste at my own pace (whilst I may add that members of the public sat in the front garden having to pay for their drinks (the perks of being a journalist in this industry)).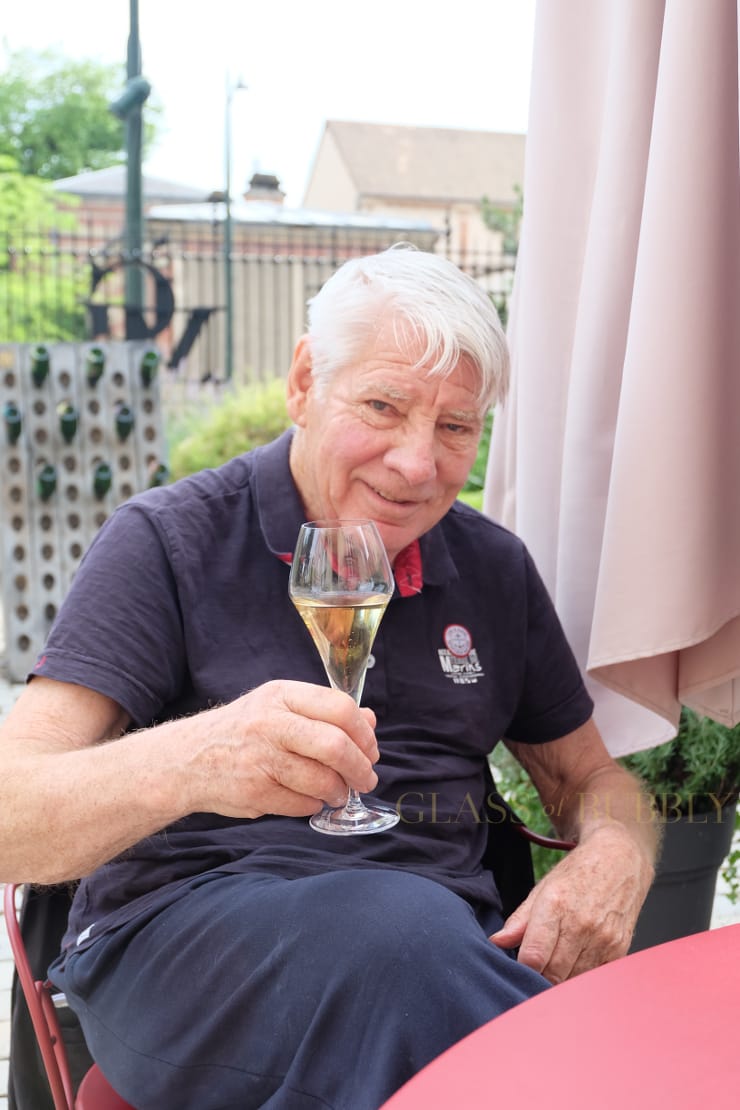 Michel Gonet
I then ventured to the front garden to enjoy some older vintages when I was then told that the senior gentleman was, in fact, Michel Gonet himself who then came over to join me and his daughter to sample their vintages. Where else in the world can you simply walk off the street, enjoy the treasures of a world famous brand and sit down with the owner for a relaxed and informal chat about current affairs which is what we did… This is the kind of greeting you can have at 37 Avenue de Champagne, Champagne Michel Gonet.
Champagne de Venoge. 33 Avenue de Champagne, 51200 Épernay, France:
So our second given in to temptation visit on Avenue de Champagne is just a few doors down at number 33. Once again a very prestigious looking property that easily lures you towards it and here we will find Champagne de Venoge.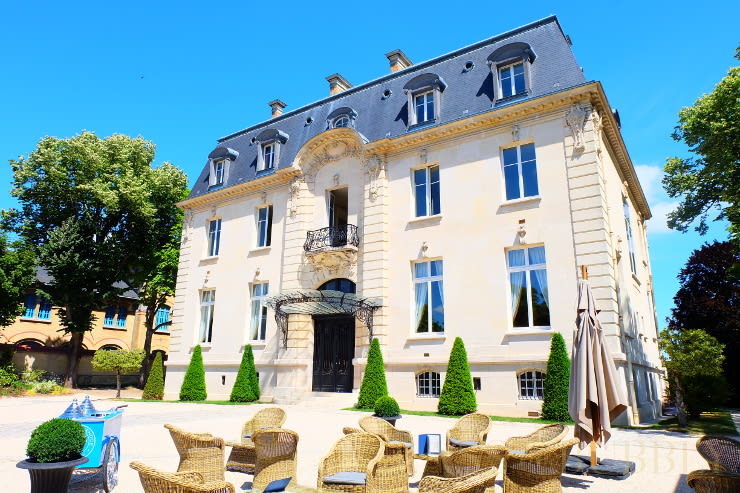 Located in the front gardens are the now converted old stables which offer a glorious bar and wine shop along with luxury overnight accommodation. On the perfect mid Summers afternoon, you can enjoy the outside seating area whilst catching the rays of the sun, though just as tempting is the inside area of the bar and small wine shop. Here you can order a sample selection of the de Venoge range with varied canapes.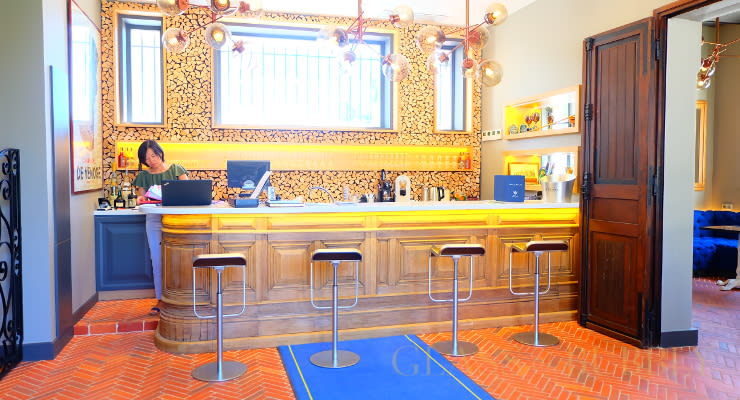 The overnight suites are truly stunning in quality and if you are looking for an overnight stay then book in advance and treat yourself to luxury. Before you leave you may be lucky enough to explore some of the rooms inside the main house that have been renovated back to original period style features – The cellars beneath are also worth a visit and hold some very prestige vintages (the property is still being renovated within to bring back to life the original living and working features of the property such as the kitchens and laundry / heating rooms the servants used to work in).
Champagne Château de Boursault. 2 Rue Maurice Gilbert, 51480 Boursault, France:
You will have now torn yourself away from the Avenue de Champagne and if you are thinking about a light lunch/dinner then I do recommend a fabulous restaurant and well known in the region, the Relais et Chateaux 'Hostellerie La Briqueterie' which is located at 4 Route de Sézanne, 51530 Vinay, France. An amazing location for gastronomy lovers with a very fine wine list – The location is approximately 5km South of Epernay.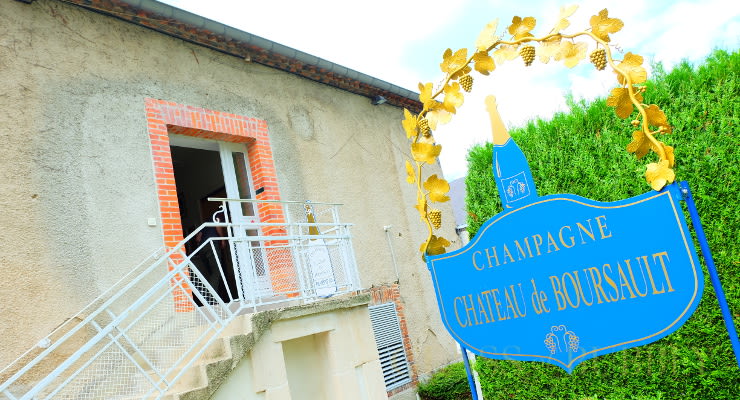 So our next Champagne house is West of Epernay along the D3 'Avenue de Paris' and will be what for many is the most nostalgic visit and if like me, you love photography and drones, the most photogenic and selfie perfect visit of the journey. Here we will be visiting Champagne Château de Boursault which are the current owners of one of the most impressive chateau of the region in the 'Château de Boursault'. The Chateau was originally built and owned by the family of Madame Veuve Clicquot until the early 20th century, the Germans occupied the Château de Boursault in fact during the First World War (this occupation of the castle only lasted 8 days).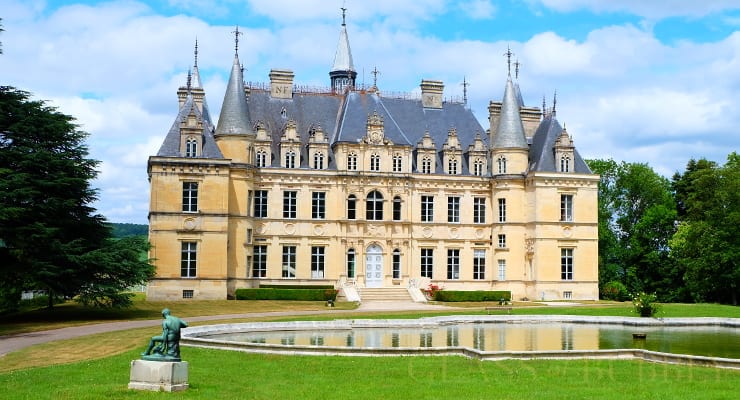 It is truly a magnificent property and if you are lucky enough to visit it (I had the great pleasure to do so with family member Alexandre Fringhian and we took a tour of the property which still requires much renovation works) you will be wowed by its size and especially the internal character and room sizes – There are also some incredible original features such as fireplaces.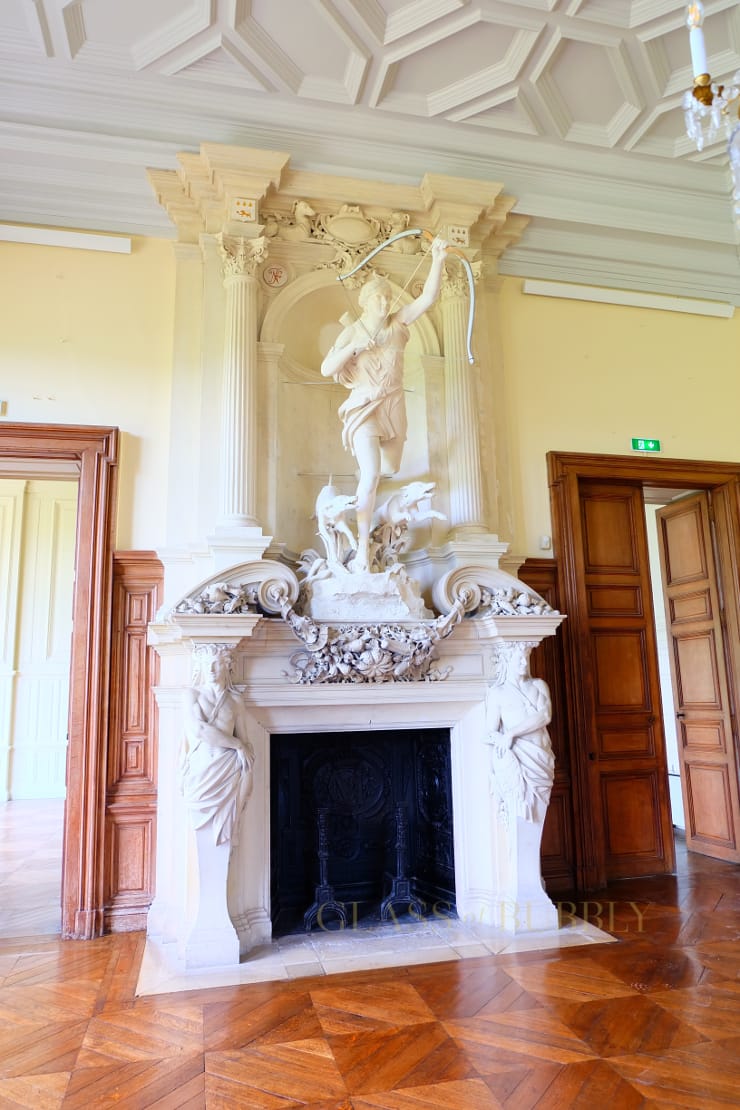 You will have for sure been busy taking photos as the location and setting of the chateau is so picturesque, but Champagne tasting is on the agenda so a visit back up to the small tasting room will be required of you and I do suggest you taste their wines to appreciate the flavours they are producing from Château de Boursault.
Champagne Charlier & Fils. 4 Rue des Pervenches, 51700 Montigny sous Chatillion, France:
Now we are getting down to the final two visits and I am really going to have to be severe in my eliminating wineries that I'd love to recommend to you as I have visited so many and each is special in its own way… Though we have to visit Champagne house number 9 and this I will give to Charlier & Fils which is a ten minute drive from where we were previously.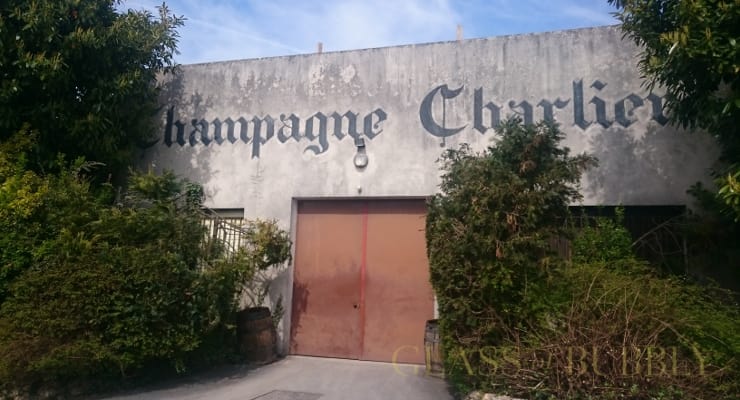 The winery of Champagne Charlier & Fils I visited back in 2015 when I was fairly new to the industry and it really was a first look at a smaller grower Champagne house for me and I was very impressed with the traditional feel of the place and fell in love with the huge oak barrels.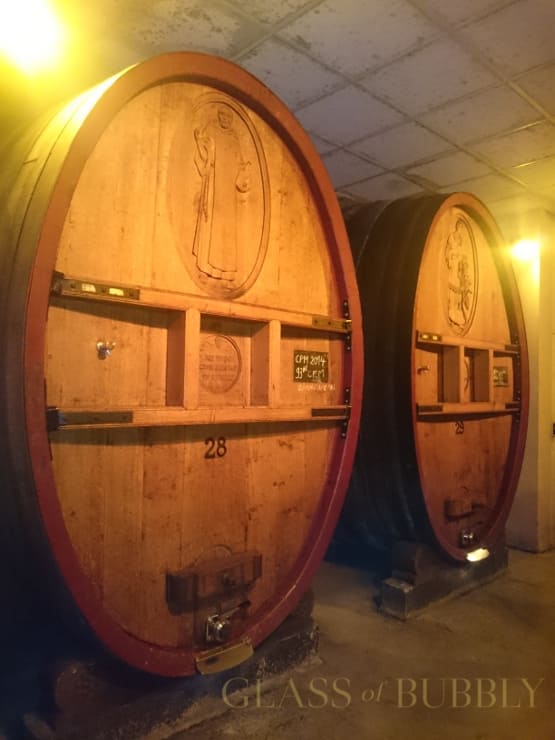 There was a very warm welcome for myself and the other members of the press tour I was with and you will certainly enjoy the tour of their winery and their own small museum of past Champagne making equipment.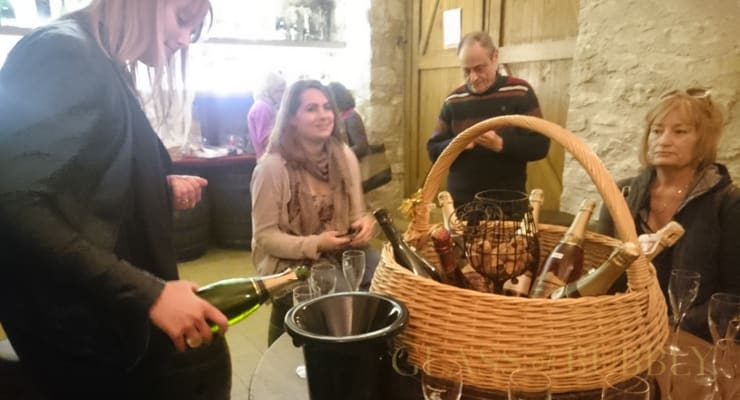 You will then be able to enjoy a tasting of their Champagne which offers a great example of a very tasty and full of flavoured grower label.
Champagne Drappier. Rue des Vignes, 10200 Urville, France:
Now the final visit will have to go to the area of Aube for those who may be taking a drive down to the Southern region of the Champagne growing world and I suggest that we pop into Champagne Drappier.
The wine growing region of Champagne is split into different locations with the furthest Southern part (Aube) some 150 kms / 1 Hour 45 mins by car from Epernay. A region that for me produces some of the best rosé Champagne.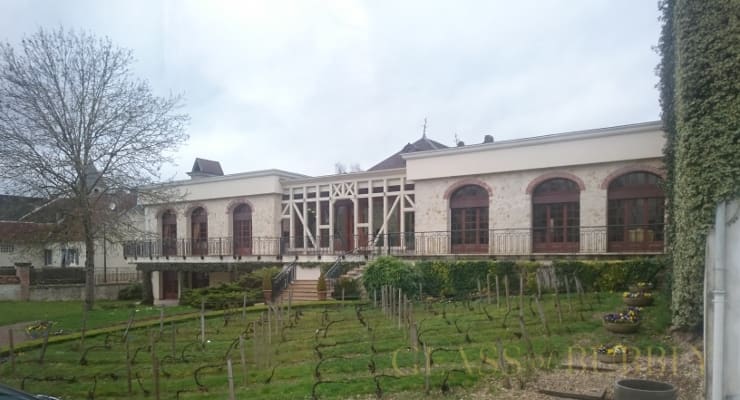 The winery of Champagne Drappier, quite a well known brand within the wine community in the UK, sees Michel Drappier since 1979 controlling the wine-making process whilst his father André, holding a lifetime's experience of harvests, still maintains a watchful eye over things. When I visited I was lucky enough to meet and share a glass of bubbly or two with both of them and hear about the family history and also the visions for the future – Though a sizeable winery with over 50 hectares of vineyards to their name and a further 50 hectares in contractual arrangements with other growers, you still get that homely feel when visiting them.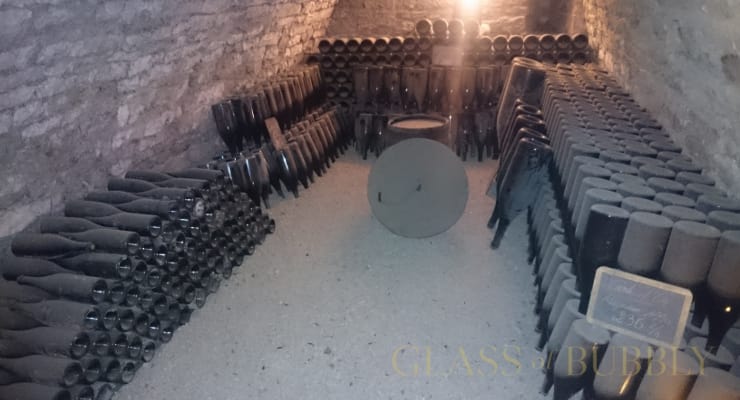 You can take a tour through the winery from down in the cellars where thousands of bottles are ageing covered in dust to the huge oak barrels storing the juice – I particularly like the character of the cellars at Drappier and got carried away by taking photos at the time of my visit.
You will then have the chance to experience the Champagne, I did so in a very nicely furnished room with roaring open fireplace to welcome me, and as mentioned please do taste the rosé.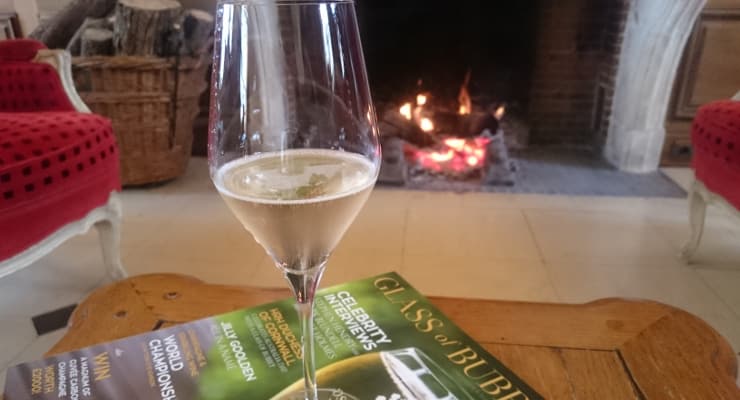 So there you have ten fine Champagne wineries to visit as from my recommendations, though of course there are many more you can explore that offer equal experiences, history, culture and tastes. You will find that nearly all Champagne houses welcome visitors and offer tours and tastings though note you may have to book in advance for some and many will make a small charge.
The region is big and you can easily get lost or become indecisive with which wineries to visit when the choice is so immense that you can end up either visiting none or not as many as you could so pre-planning a trip to Champagne is always advisable.
You'll be surprised at just how many wineries will accommodate English language and many times someone from the family / team will be more or less fluent.
Take a jumper / jacket as cellars are usually cold and some tours mean that you could be down in the dark, damp cellars for 30 mins +. I'd also suggest some small wellies or waterproof shoes with good tread as you may visit the vineyards. Take if needed, one of those small fold-able chairs with you also for those that will find it hard standing for more than 5 minutes as at times you may stop at certain points of a tour of a winery where the guide will spend time talking.
Take some cash with you also as you can, of course, purchase Champagne directly from each winery and usually single bottle purchases or a case if you really enjoyed the bubbly!
This has been ten Champagne houses to visit for 2018 by Christopher Walkey.
Christopher Walkey
Co-founder of Glass of Bubbly. Journalist and author focused on Champagne & Sparkling Wines and pairing them with foods.