Glass of Bubbly Awards 2021
Only £100 + VAT to have your wines judged by a host of international Champagne and sparkling wine professionals from Master of Wines to Sommeliers.
•
19 Trophies to be won along with, gold, silver, bronze and highly commended medals plus the title of The World's Finest Glass of Bubbly for 2021 (closing date for entries is Aug 18th 2021)
•
When you enter our awards we work with you promoting your wines throughout the year on our website, across social media, at live events and within national press / media channels.
•
The trophies are announced at an awards dinner and sparkling wine reception in London.
Enter the Glass Of Bubbly Awards
£100 + VAT per entry

Enter over 5 wines 10% discount

Enter over 10 wines 20% discount
"I simply love the idea of categorising award winning wines in easy to understand descriptive names such as Sea Breeze and Fruity and Floral, this is a whole new way of judging wines."
Ben Wyse of Gonzalez Byass UK
"Winning the title of The World's Finest Glass of Bubbly with the label that we represent, Champagne Deutz Blanc de Blancs 2010, we saw an immediate increase in the amount of interest and orders."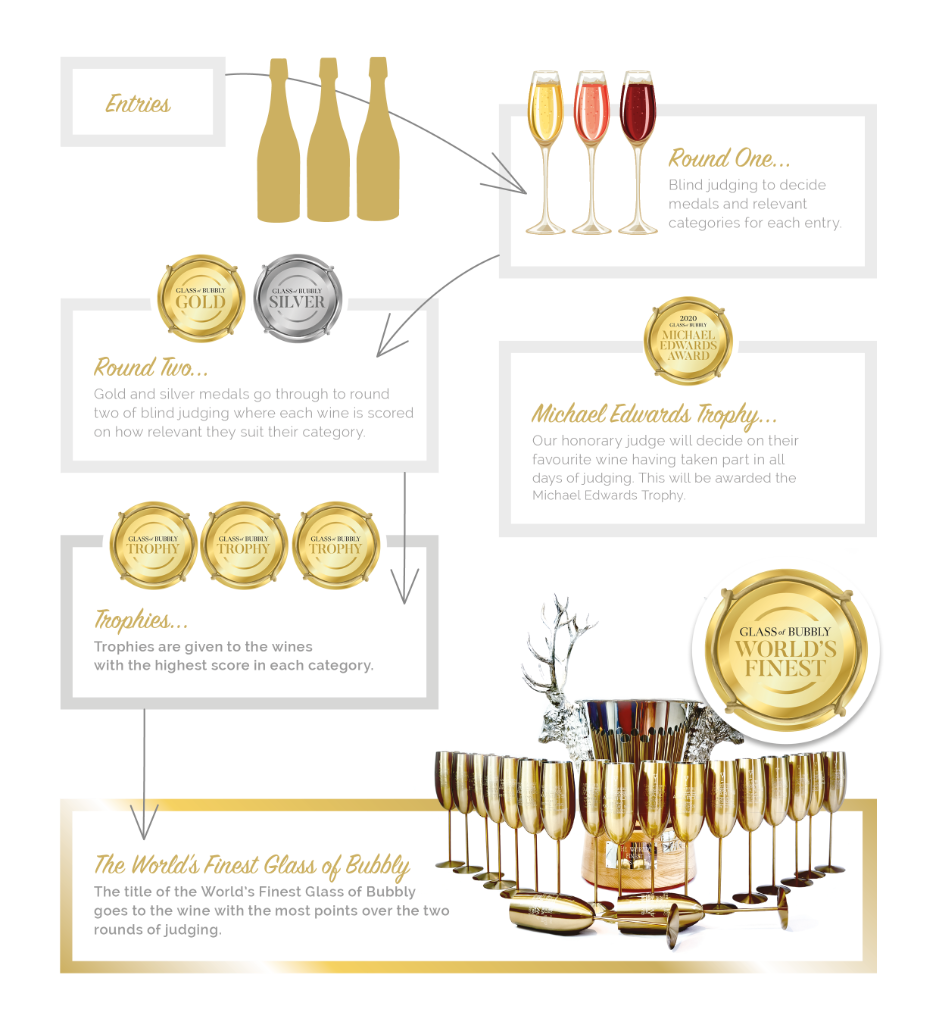 Creamy
A soft rounded wine that gives you a buttery/creamy experience of aromas and in taste.
Classic & Elegant
This will likely be a stylish wine showing balance with a refined quality.
Fireworks
An intense and powerful wine that really bursts with flavours in the mouth.
First Date
The perfect wine to accompany that first date. Nothing too complex and not necessarily a wine that needs to pair with exact foods.
Forget Me Not
A wine with a unique taste. There's something very different about this wine making it stand out.
Gastronomic
A complex wine that holds enough body to accompany fine cuisine.
Dessert
A wine that will likely be sweeter in taste and pairs well with desserts.
Hint of Spice
This wine will offer a bit of a kick with a spicy tone.
Light & Fruity
A light and easy to drink wine with expressive fruity flavours.
Meditation
An addictive wine for those special relaxing times. This wine will express itself more and more the longer it is opened and the longer it stays in your glass.
Oaky & Toasty
This wine will likely have been aged in oak barrels and have a toasty flavour
Sea Breeze
When you taste this wine you will imagine yourself standing on the beach and tasting those tiny sea drops in the air.
Spring Fling
Floral, blossom aromas and flavour that immediately hits the spot.
Summer Days
Does not have to be a complicated wine, will offer a refreshing and crisp tasting experience ideal for accompanying time spent in the sun / shade.
Vintage
A serious wine with highly complex aromas and a lengthy taste explosion of many layers.
Winter Warmer
A perfect companion for a winter's evening sat in front of the fire, likely to be a fuller flavoured wine.
Zesty & Zingy
A wine that will likely be citrus flavoured with a definite zing to it.
Would you like to Judge at the Glass of Bubbly Awards?
Join our team of judges and help to decide who takes home the trophies and the title of The World's Finest Glass of Bubbly.