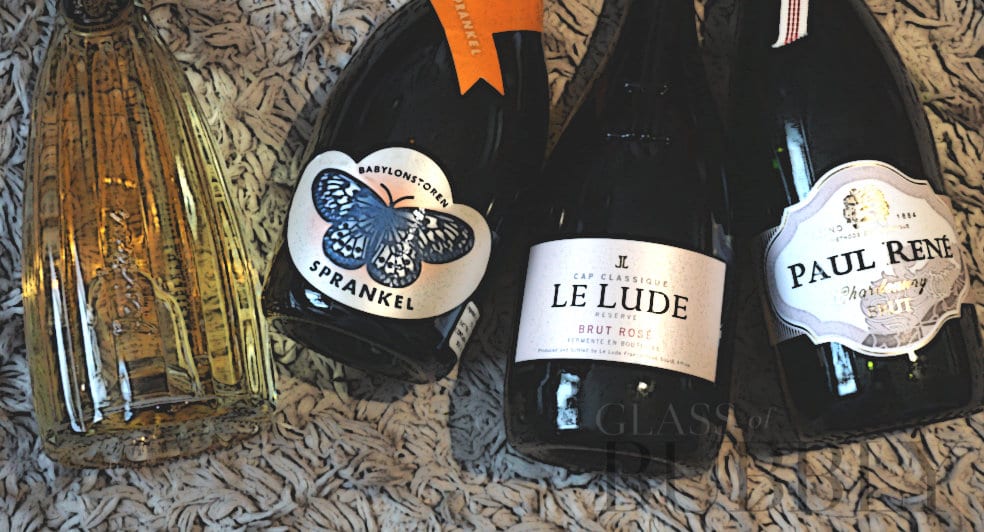 The world is full of amazing sparkling wine regions and during my travels, I have been wow'd and fallen in love with many of them. For me, a wine region is not only about the wines they produce, but the lifestyle and people including gastronomy, tourism, architecture and more. Varied continents, varied climates with different style of terroir and production methods makes the world of wine a vast topic to discover, can you believe that vines are even grown out in the Gobi Desert, China!
There are many proud wine producers who are equally proud of the wines that their regions and their countries are making, many have strong and building relationships to help promote themselves as a whole. When you view the likes of social media there are countless times that I see the love shared between winegrowers who are not afraid to positively comment on wines other than their own.
South Africa also has a great deal of love and of course, fine wines to share with the world, the home of Cap Classique (MCC) and some wonderful méthode champenoise sparkling wines made with some traditional Champagne grape varieties along with the required ageing on the lees.
There are some bold character labels with global fans with personalities and talents such as Pieter Ferreira, Cellarmaster at Graham Beck Wines and Paul Gerber, previously winemaker at Le Lude. Flavours are amazing across approx. 100 sparkling wine producers from South Africa, a trend that has been growing since the millennium when there was reported only 20 wineries producing fizz.
If there are fine Champagne lovers reading this article then may I share with you that many labels from South Africa are not a million miles away from producing the kind of flavours that you will fall in love with and most certainly they will turn your head and raise an eyebrow or two. If it is young and fresh yet toast and oak flavours your enjoy then you will find splendour when you explore wines of the MCC positioned down from the Western Cape with many circling around Cape Town.
So what flavours can you expect to get from South African Sparkling Wines?
Grapes such as Pinot Noir, Pinotage, the ever reliable and loved Blanc de Blancs thanks to Chardonnay will see sparkling wines resemble those flavours which are offered by Champagne labels – Deep toasty and oak along with rich yellow stone fruits and the likes of floral, butter croissant with warmer climates driving more fresh and citrus flavours in to the mix. Fine and delicate along with complex and detailed will be the tasting experience that South Africa holds for sparkling wine lovers:
Paul René Chardonnay Brut: "Fresh yellow fruits with soft blossom notes in aromas. Nice relaxed and complex fizzy flavours given yellow and green fruits, white blossom, hints of pastry and white pepper. Very fine and enjoyable glass of bubbly from South Africa."  Christopher Walkey
"From the Robertson wine valley comes a new trend-setting Bubbly enjoyed by those who appreciate the finer things in life.  Expect to find it at exclusive dinner parties, uptown eateries and the tucked-away deli on the corner.  Farmer and bubbly producer, Henk van Niekerk, believes it is the break away from the traditional which propelled this MCC from its humble beginnings on Wonderfontein Estate, to the fridges and coolers of a new generation of bubbly enthusiasts."
Babylonstoren Sprankel 2013: "Crisp red apples and pastry on the nose. A dry flavour of yeast, minerals, bruised apples." Christopher Walkey
"Our wines are a combination of the very essence of Babylonstoren – keeping things simple and as true to the earth as possible. Truth to the area we are situated in on the slopes of Simonsberg, and simplicity by making elegant and balanced wines as natural as possible."
Le Lude Reserve Brut Rosé: "Red berry, lime, gooseberry on the nose. Subtle red berry fruits initially then drier citrus flavours in the length." Christopher Walkey
"Le Lude, a wine farm in the picturesque Franschhoek Valley of South Africa's Western Cape, follows an ethos committed to its founding family and the crafting of naturally bottle-fermented sparkling wines, known as Cap Classique. Here the Barrow family have made their home, writing a new chapter in a premier wine region where French Huguenots, fleeing persecution for their religious beliefs, landed in the Cape and began making wines in Franschhoek as far back as 1693."
Desiderius Pongrácz 2008: "Lively bubbles and full of pleasing aromas to include sweet citrus, brioche and peach/watermelon. Crisp and dry flavours, citrus and yellow stone fruits with a touch of forest floor. Paired nicely with some homemade quiche and salad." Christopher Walkey
"There are a great many things that need to align to compose a single bottle of Pongrácz. Noble varietals, knowledge and expertise are just a few of the pieces of an ensemble that, once in play, forms the symphony that is one of South Africa's finest Méthode Cap Classique's."
Christopher Walkey
Co-founder of Glass of Bubbly. Journalist and author focused on Champagne & Sparkling Wines and pairing them with foods.