Many of us have enjoyed a barbecue or two be it at home or as an invited guest when the sun is shining and it is warm outside the urge will always be there to suggest cooking and eating outside. There are many surveys out there on people's eating habits and BBQ facts; those living in London having an average of 14 barbeques a year.
A perfect excuse to open a bottle of bubbly or two will be for that barbecue, especially if you are inviting friends and family and it is the perfect summer weather – What a combination to admire both sizzling foods on the grill cooking with open flames and an ice bucket containing a fine bottle of sparkling wine.
A barbecue can take many formats from cooking over gas, coal, wood to heating over open flames, on a tray, foil and of course it will also depend on what foods you are cooking. For the purpose of this article, we cooked with wood on foil, chicken, vegetarian sausages and hamburgers.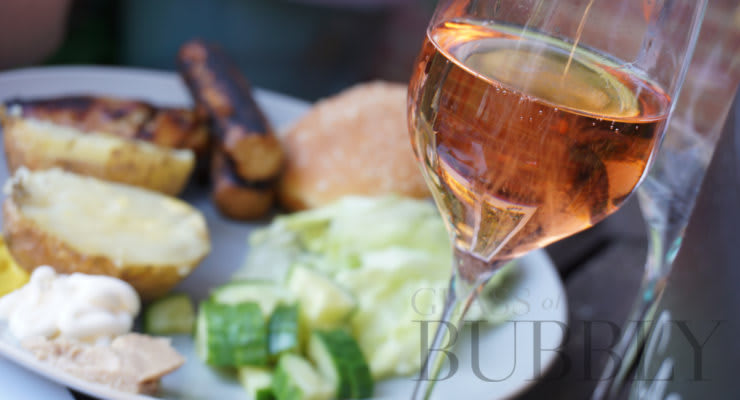 What are the best sparkling wines for a barbecue?
Today we have a choice of 10,000's of sparkling wines and though there is no definite answer, the ideal solution would be a Brut and Brut natures so to cleanse the palate upon eating greasy foods. You do not need to stick with Champagne, you can also select the likes of English sparkling wine, Cava, Prosecco and more. Experimenting is also good and doing something different can deliver surprising results! We suggest not going for more expensive sparkling wines / Champagne neither vintages of many years of age as you may lose some of the flavours from the wine which will be battling against the smokey / burnt flavours from the foods.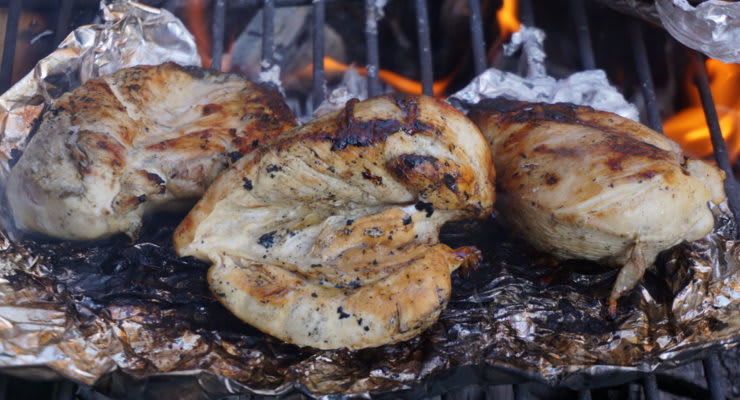 We decided to run a BBQ and Fizz article and to chose a selection of four different sparkling wines to include Brut, rosé and red sparkling wine:
Vilarnau – Rosé Reserva – Spain (Gold Medal Winners First Date 2018): "Relaxed aromas of red berries, candy, smoked ham. Refreshing and crisp, tough of dryness in the red fruity flavours it offers."
Bolllicine – Millesimato 2014 – Italy (Gold Medal Winners Forget Me Not): "A different aroma to discover here, hard to pinpoint exactly, almost an apricot / marzipan / liquor sensation. Taste is memorable also, fruity and more-ish, a burst of yellow stone fruits with a near smooth length."
Giusti – 'Rosalia' Prosecco DOC Treviso Extra Dry – Italy (Gold Medal Light & Fruity): "Though extra dry it is not annoyingly too sweet – you still get a great yellow apple and pear aroma along with a smashing fruity taste."
Paulett Vineyards – Trillians Sparkling Red NV – Australia (Gold Medal Winners Gastronomic): "Nose is very welcoming giving a basket full of red fruits with hints of red apples and candy. Most pleasant flavours for a red sparkling wine, not too heavy yet bursting with tempting tastes including soft dark berry fruits, soft spices and a wonderful creamy finish."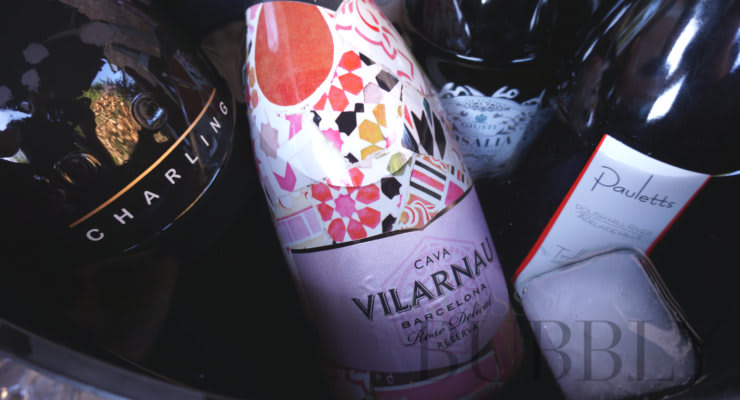 How did each of the wines work with the BBQ dish?
Vilarnau – Rosé Reserva: "Cleanses the palate nicely leaving freshly picked red berry fruits in the palate. This wine is a perfect companion to a summer's day barbecue either as an aperitif or to run alongside the cooked foods."
Bolllicine – Millesimato 2014: "Leaves a smooth citrus / honeycomb flavour from the wine when paired with the barbecue chicken."
Giusti – 'Rosalia' Prosecco DOC Treviso Extra Dry: "The Prosecco is a trusted refreshing wine and here the Giusti DOC does not disappoint. A perfect aperitif wine for the barbecue though punchy and refreshing enough to pair with the foods also – You get a fruity burst from the Prosecco when paired with the burger and it cleansed the palate well."
Paulett Vineyards – Trillians Sparkling Red NV: "What a surprise, this red sparkling wine was everyone's favourite from the tasting – Near enough too good not to be drunk on its own, though it paired magnificently with the barbecue foods. Offering soft blackcurrant flavours and a smooth sensation in the palate when paired with each of the barbecued main dishes (chicken, hamburger and veggie sausages)."
Christopher Walkey
Co-founder of Glass of Bubbly. Journalist and author focused on Champagne & Sparkling Wines and pairing them with foods.