Champagne and Gin Cocktail enjoyed with Root7
A popular fizz cocktail combination is that of Champagne along with a drop or two of gin with famous examples to include French 75, Forenoon Fizz and Eden Special Fizz. Today we are presented with a wonderful selection of Champagne to choose from be it the world famous and iconic labels to the lesser known and full of wonderful flavours and characters from the smaller grower producers – The world of gin has also exploded with an array of craft distilleries offering roof lifting examples of the taste explosions.
Just where do you start in mixing the two together to find out the best? Well, these days it will take you an awful long time and probably a selection of the worlds top judges to decide upon the greatest mixes, a somewhat endless task as more and more labels and flavours are released – We are lucky in that Glass of Bubbly are frequently sent samples to review so today I wanted to look at the Manchester Three Rivers sample we had and also at some wonderful glasses we had been sent from Root7.
Manchester Three Rivers small batch dry gin: A chance meeting for me with one of the investors in this gin label brought about a sample being sent to our office – I had certainly had a taste of a Manchester gin previously though had yet to explore the flavours of the Three Rivers label:
"Deep floral and forest floor aromas. The flavours are a mix of spices and citrus with juniper and black pepper hints."
It is important to add that it is not only about the gin in the bottle from this brand, they offer a unique and somewhat unrivalled gin experience feature that so far I am told that 10,000's of enjoyed already.
Quoted from their website: As a visitor, you can expect to tour the distillery, learn about the often illustrious, sometimes dark and unquestionably intriguing history of gin. As well as gaining an understanding of how gin's diverse flavours are concocted, throughout the tour we offer you four complimentary drinks, from our perfect serve G&T's to classic cocktails, before finally letting you loose on our mini copper pot stills where you will create your very own personalised bottle of gin to take home.
Root7 Geo Glasses: I loved the look of these glasses going back to where I saw them being showcased at a tasting I went just a few months back and of course I was delighted that we received samples from Root7 chez Glass of Bubbly. These are fine examples of drinking glasses, elegant and almost Art-Deco in character with neatly lined edges to a hexagon shaped style. As soon as I saw them on my desk for reviewing, I felt the need for a cocktail to christen them!
Champagne Vollereaux Cuvée Célébration Premier Cru Brut: I decided to look through our Gold winning labels from the category 'Classic & Elegant' as I felt this would suit our Root7 glasses. On top of this, I also wanted a Champagne that was not too over complicated and that would suit a cocktail with strong enough flavours to both be noticed, yet not overpower.
"A gold medal winning Champagne from category 'Classic & Elegant'. Easy to drink and enjoy. Refreshing flavours of white fruits and citrus, hints of pastry – lively, crisp and alive with flavours."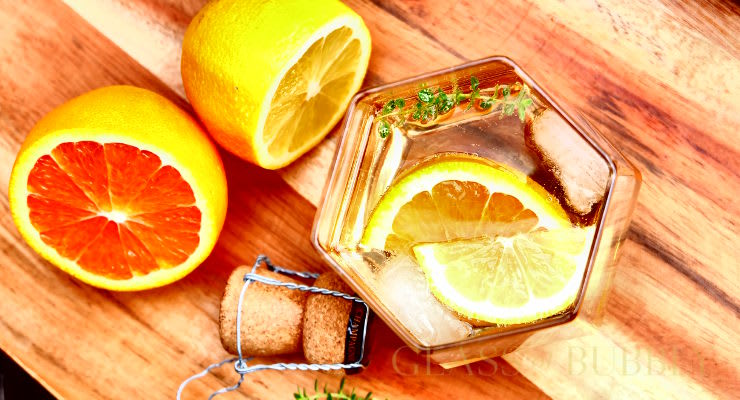 Manchester Three Rivers Gin & Champagne Vollereaux Cuvée Célébration Premier Cru Brut cocktail: An easy to make cocktail, to be honest, but for me quite refreshing and enjoyable and allows both the gin and Champagne to express themselves. In addition to a shot of gin and a near half Root7 Geo Glass of Champagne we need to add ice cubes, a thin slice of lemon and orange along with the herb Golden Thyme. Here we get a crisp and dry, yet fruity flavoured thanks to the Champagne and spice and warm peppery hints from the Gin.
Christopher Walkey
Co-founder of Glass of Bubbly. Journalist and author focused on Champagne & Sparkling Wines and pairing them with foods.