Discover Champagne Agrapart et Fils
Champagne Agrapart et Fils is a winery created in Avize by Arthur Agrapart at the end of the 19th century.  Since then, the winery is still run by his descendants.
They possess 10 hectares in Côte des Blancs. They make the best use of the Chardonnay grape.
The average age of the vines is 40 years. They are partisan of an integrated viticulture.
The trend line of their Champagne, is their body (from oak barrels ageing), a lot of minerality and their elegance.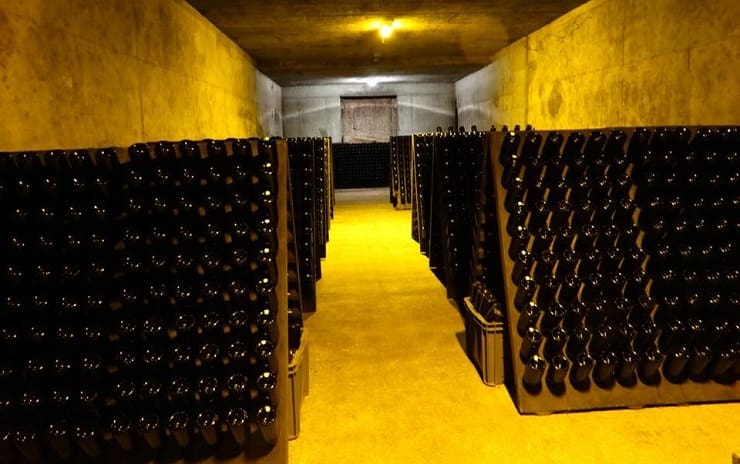 Tasting notes:
Les 7 crus:
90% Chardonnay  &  10% Pinot Noir. The grapes come from the seven villages where the family own vines. It includes some grapes both grand cru AVIZE and cramant.
It has been aged in oak barrels. The style of wine is a beautiful aromatic profile match by an elegant minerality. Perfect for seafood, on its own or to begin the evening.
TERROIRS EXTRA-BRUT BLANC DE BLANCS GRAND CRU
This Blanc de Blanc is made with 100% Chardonnay coming from grand cru vines only!
A style well balanced, hints of brioche, buttery style with some freshness to it. A delight to enjoy at the table with Spikefish or turbot for example….
COMPLANTEE EXTRA-BRUT GRAND CRU AGRAPART
25% Chardonnay, 15% Pinot Noir, 15% Pinot Meunier, 15% Pinot Blanc, 15% Petit Meslier, 15% Arbanne
My crush !!!!
Original and unique! This Champagne is born of the complatetion of almost all the Champagne grapes varieties . They balance each other to reach a marvelous symbiosis .
Disgorged 60 days before being sold. This Champagne is characterized by its freshness, citrus and nutty profile.
Simply a delight … for the match  … be also creative … a poultry could be interesting …
MINERAL 2011 EXTRA-BRUT BLANC DE BLANCS GRAND CRU AGRAPART
A Blanc de Blanc made with vines over 50 years olds coming only from grand cru vineyard situated in AVIZE and Cramant.
The terroir, witch is literally expressed in your glass, gave its name to this cuvée: The minerality, the subtle iody palate give an elegant Champagne with style.
AVIZOISE 2011 EXTRA-BRUT BLANC DE BLANCS GRAND CRU AGRAPART
A Blanc de Blanc made with vines over 60 years olds coming only from grand cru vineyard situated on the best slope of AVIZE.
Aged only in oak barrels, unfiltered and straight bottled with liege cork.
A richer style of Champagne, going toward aromas of exotic and white fruit (mango, peach). The ageing gives as well a lovely toasted  fragrance to the wine. Why not enjoying it with foie gras?
Champagne Grand Cru AC 2010 Brut Nature, Vénus
The 60 acres of vines situated in Aviz , are worked only by men and horse.
This cuvée is named after Venus, the horse who ploughed the ground for years .
This Blanc de Blanc is aged in oak barrels.
It's a brut nature, this elegant wine offer a nose of brioche and white truffle. The palate is smooth with a long finish and subtle minerality.
Experience 12 hit by the thunder
A Champagne make with grape juice !?
Yes, it is. To preserve a maximum the taste, the aromatic and the quality of the grapes and minimise the addition of produc .
They do a tirage liquor based with the grape juice of the year harvest.
This creates a Champagne more complex, with a palette of aromas broader and a richer silky texture going toward white fruit.
Beautiful shades of bitters on the finish.
Glass of Bubbly
Executive editor of news content for the website Please enjoy the articles that we share - We hope you find our love for Champagne & Sparkling Wines both interesting and educational.