Enjoying a Vegan meal at home with Vegan Sparkling Wines
I have been increasingly intrigued to find out more about Veganism, initially wanting to see if in fact by adhering to a Vegan diet you would be missing out on flavours. I hear an array of feedback on the subject from many positives to negatives, varying on what focus people have in mind when turning to a Vegan diet be it environmental concerns, health, animal rights or simply they enjoy the foods on offer.
I have read facts that state 5% of the UK population are now Vegan and following a recent outing to the Casual Dining Show in London I was very impressed by the wide selection and quality of foods that are now Vegan friendly. This whole fascination by me was initially started by me wanting to see if Vegan sparkling wines were of the same quality as standard produced sparkling wines.
It is important to remember that not all Champagne and sparkling wines are in fact vegan or for that matter vegetarian: During the processing, many producers will include gelatin, milk protein or egg white during the fining process, some will even use isinglass which is derived from fish bladders. The labels on the bottles will vary across the world, some mentioning they are suitable for vegetarians and some will advise they are fine for vegans, many though will not indicate this and for those who follow a vegan diet it will simply be nothing new to you that you will, unfortunately, have to research online before buying / drinking.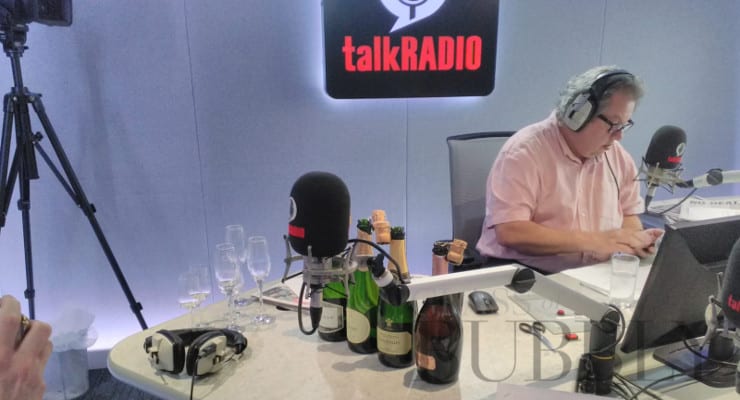 I recently went on to one of London's most popular radio shows to taste through four vegan wines with the host (Mike Graham) and this produced positive results as each as tasted and agreed upon that no lack of flavours existed and they were very much on the same level of any other Champagne / sparkling wine – This was important for me to show as many will automatically think a vegan wine may hold slightly less flavours. Radio show video can we watched on Facebook: https://www.facebook.com/houseforsale/videos/10157388929087708/
So it is a thumbs up on the vegan wines, so how does the food fair? Our recent call out to companies on social media to send in samples saw wines from across the world arrive at our offices along with food samples, our first in a series of Vegan sparkling wines and foods is here for you:
Vegan Sparkling Wines:
English Sparkling Wine – Fox & Fox Mosaic Rosé 2015: "One of 1,023 bottles made. Red berry fruits with a touch of cream on the nose. It's a wonderful explosion of English garden summer fruits with red berries prominent though also crisp Cox's apples, gooseberry and back current. A gold winning wine in the category of 'Winter Warmer' at the 2018 The World's Finest Glass of Bubbly Awards."
English Sparkling Wine – Bluebell Vineyard Hindleap 2014 Classic Cuvee: "Floral, apple blossom mostly – fresh green apples on the nose. Dry flavours of citrus / green apple / orange peel / pink grapefruit."
German Sparkling Wine – Dr. Loosen Brut Rosé: "A pinot noir rosé. A light copper / salmon pink colouring. Raspberry, strawberry and cream on the nose. A soft and rounded flavour, crisp and yet a light touch of red fruits in the length. Easy to drink and enjoy, very much a Summer's day bubbly."
Prosecco – Andreola Dirupo Valdobbiadene Brut 2018 DOCG: "Wonderful aromas that are delicate yet full of ripe golden pears and deep red apples. Fine bubbles. Fruity, not overly sweet, enjoyable and more'ish – This is what Prosecco is all about! A must visit also for those fans of wine tourism, a great location and winery."
Prosecco – Adnams Prosecco Extra Dry: "Fizzy sherbert on the nose. Extra dry though not overly sweet, an enjoyable burst of yellow fruit flavours, soft and decent length in the palate. Almost designed to a theme of one mouthful leads to another… "
Prosecco – Zonin DOC: "Pears and yellow apple on the nose. A sweeter, fruit driven and tasty Prosecco."
Aperitif:
For this we went with some very interesting red dates stuffed with mixed nuts that were provided by Abakus Foods – These are of course vegan and only 70kcal per pack of three. "You are expecting the usual somewhat overly sweet date flavours, but these are slightly more savoury and the addition of the nuts adds to the tasting experience. An ideal aperitif."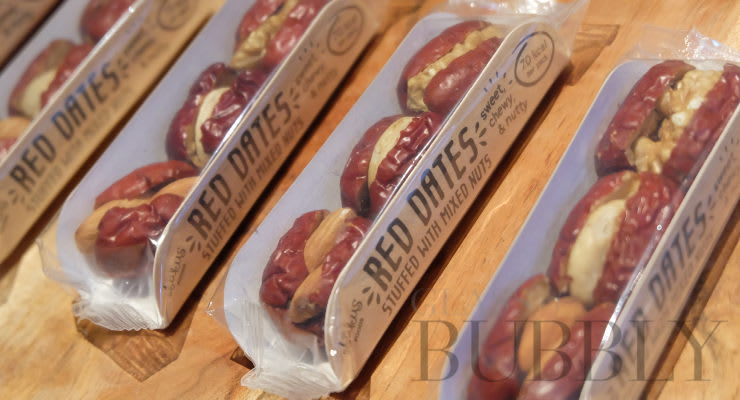 Perfect pairing: "The Zonin Prosecco, which we decided was the perfect aperitif sparkling wine from the selection, also paired perfectly with the red dates in that there was an initial explosion of fruits from the wine and a sweet taste from the dates. The dates themselves were more savoury than sweet when tasted alone and yet very more'ish, they came alive with the Zonin."
Dinner: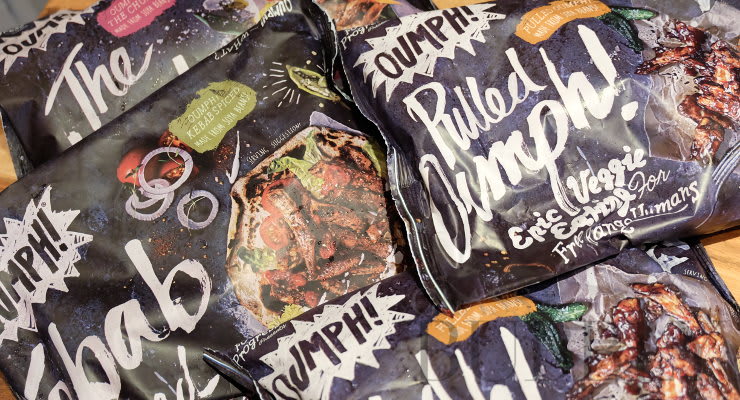 We received a great bundle of samples from the team at Oumph! allowing us to explore their range of plant-based frozen foods 'Epic Veggie eating for Free Range Humans' is how this range was described.
I really advise you to go to their website here and explore what they offer, they are fresh and innovative and bursting with ideas and obviously hold a great passion for Vegan Friendly Food.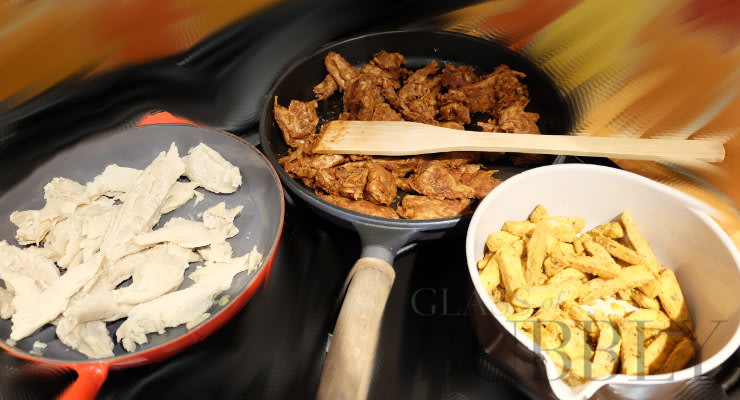 I was so very pleasantly surprised at what I tasted with Oumph!, so impressed I was that I feel this team have made the process of moving from a non vegan diet to a full vegan diet so much easier – Easy and quick to prepare and cook at home also! We tried three of their range made from soya beans, please see the following descriptions as those coming from a meat eaters perspective: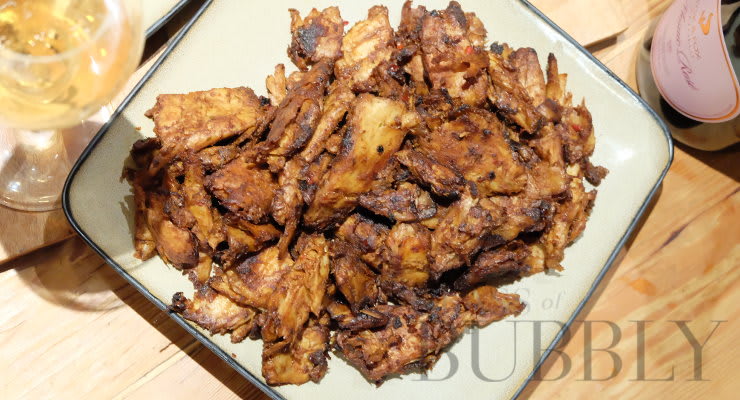 OUMPH Pulled Oumph!: "I am a fan of pulled pork and the team at Oumph! here are not a million miles away from replicating the tasting experience with their sauce and soya. Both the flavours and the texture are ever so inviting and as a meat eater you certainly get the feeling that the brand has catered for my preferences by supplying a more or less exact replacement for the meat – They have made the process of coming away from eating meat that much easier."
Perfect Pairing: "I knew straight away that this dish was going to marry up ever so well with the Fox & Fox Mosaic Rosé and this it did delightfully. The bold flavours of the wine fight through the greasy texture of the dish enabling a burst of red fruits initially then it is quickly on to the BBQ sauce with the soya flavours in the length."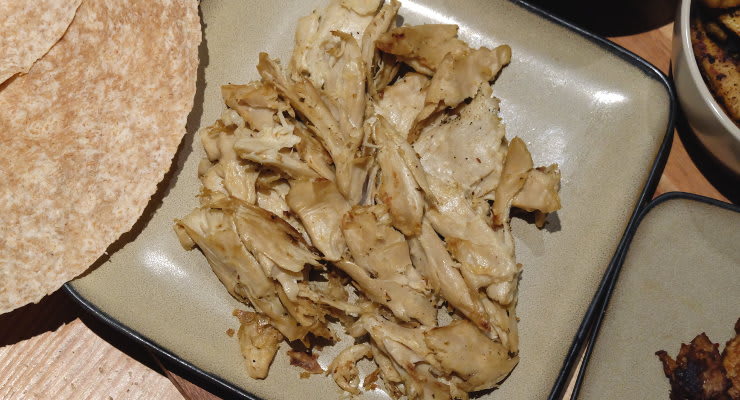 OUMPH The Chunk: "Looking a lot like chicken with a taste and texture that is not too far away from being exactly that. Not overly savoury on its own, but nonetheless filling. I tasted the 'chunk' within a vegan wrap with salad and a spot of hot sauce provided by  vegan friendly Curcials and their 'extra hot chilli'."
Perfect Pairing: "Here the Adnams Prosecco performed best in that the crisp green fruit flavours of the wine complimented the soya the best by cleaning and refreshing the palate. The hot sauce required some cooling and the Prosecco easily put out the 'fire'."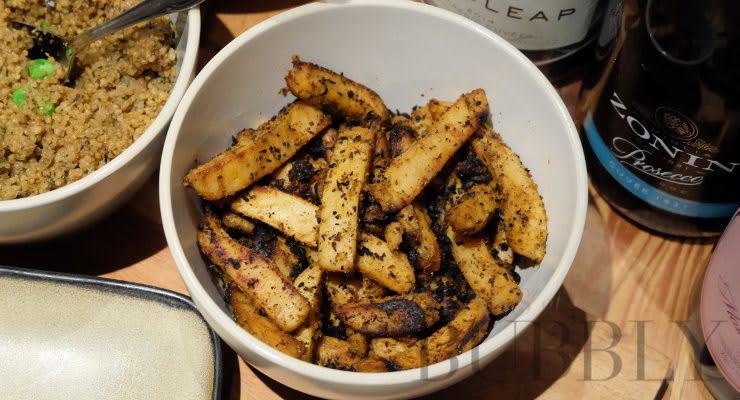 OUMPH Kebab: "My kebabs are always spicy so again the extra hot chilli sauce came in to play within a vegan wrap with the kebab slices added. Once again the team at Oumph! are catering to my taste here and I feel I am not losing too much and indeed benefiting much more by having the vegan option over the meat."
Perfect Pairing: "The Zonin comes in to play again by pairing the best, the fresh and crisp yet somewhat smooth Prosecco flavours are able to cool the palate yet not take too much flavour away from the dish."
Dessert:
A simple and healthy dish of fresh fruits (apple, banana and blueberry) was the recipe for dessert. We tried both fruit alone and with vegan friendly Alpo vanilla yoghurt.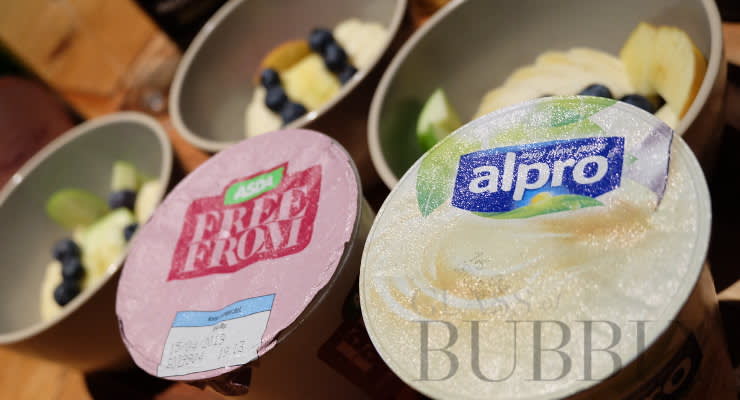 Fruit alone: "Paired best with the Adnams Prosecco giving a fresh green fruit explosion combined."
Fruit and Alpo vanilla: "The Hindleap came away as the winner here, the fruity and creamy dish is livened and then cleansed by the sparkling wine giving a soft green fruit length."
And finally…
To round off a very enjoyable vegan dinner and a fine selection of vegan sparkling wines we saved some real 'treats' to last thanks to Fab Fudge who sent us a selection of four vegan friendly fudge to try.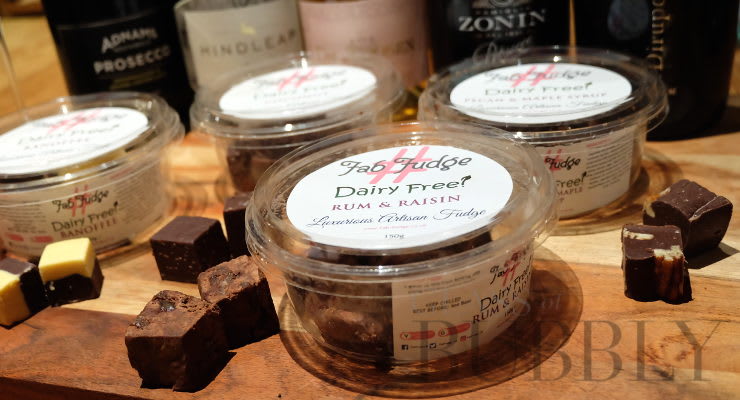 The dairy free fudge we were sent included Banoffee, Coconut, Rum & Raisin and Pecan & Maple Syrup.
Tasting review: "They are very more'ish, not overly sweet so that they are sickly, you can overindulge with Fab Fudge and as their range do not feel 'heavy'. All taste exactly as they describe them on the box, the flavours being highlighted over any overpowering artificial sugar ingredients."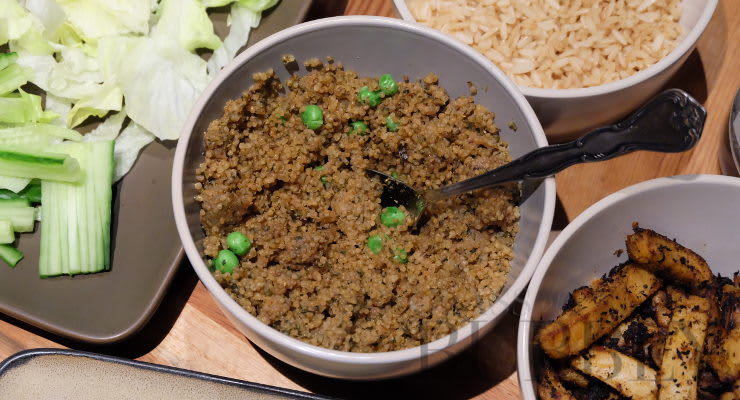 Additional in the tasting was brown rice and another interesting brand we discovered at the Casual Dining show in The British Quinoa Company.
Lemon & Herb Quinoa from The British Quinoa Company: "An alternative to rice and very similar to couscous, not overly heavy yet very filling. Suggest you add additional veg to the easy to cook packet such as peas which what we did. Quinoa is an edible seed and a great addition to have in your weekly vegan shopping list – Note that you pronounce it "keen-wah"!"
So what is the overall impression of vegan foods and vegan sparkling wines? I am impressed and I hope this is conveyed in my report above. I prefer to try for myself than believe all that I read online, I had read many conflicting reports during my research that I was determined to set aside time to explore vegan as a whole and try and share my notes with our audiences – If there is a positive to explore then as always we at Glass of Bubbly love to explore it.
As I conclude writing this article, the morning after in fact, I find myself popping over to the fridge and just like the morning after a curry or pizza takeaway and I am sure that many folk will agree, these foods taste better cold some 12 hours later – The Oumph! vegan options have the same effect… Ok, so maybe now it is mid morning time, but I have enjoyed my first ever vegan breakfast!
Thank you to all the brands who partook, thank you to Casual Dining show for having so many fine vegan stands that educated me tremendously and of course thank you to all our readers who continue to support what we do, promoting the fantastic world of sparkling wines!
* As always, these such articles are not paid for or sponsored, we simply ask the brands highlighted to send us samples of which we report on.
Christopher Walkey
Co-founder of Glass of Bubbly. Journalist and author focused on Champagne & Sparkling Wines and pairing them with foods.