Exclusive Auction Sale of Single Barrel Champagne Paul Launois
Champagne Paul Launois
Exclusive Auction Sale in Champagne – June 14th, 2019
10 batches of 216 bottles of 'Single Barrel'
On Friday June 14th, 2019, Champagne Paul Launois invites you to the first auction sale of bottles from a unique concept in Champagne: 'Single barrel'
This experience is the key to a tailor-made Champagne. Julien Launois has selected two of his best parcels of Le Mesnil-sur-Oger to vinify his 'Single Barrels 2018'.
The 5 toasts of the 10 new oak barrels, made by "Tonnellerie Artisanale de Champagne" and a conscientious bâtonnage (stirring of lees) had led to a selection of 10 unique still wines for Champagne.
The tasting notes of Mr Philippe Jamesse, official consultant for this event, will help you to select your "Single barrel" and get your oenological adventure started.
Known as one of the best terroir in Champagne, Le Mesnil sur Oger ensures the quality and the rarity of these wines.
Opt for the optimum ageing, decide on the dosage and become the co-creator of 216 bottles of your vintage 2018.
The 'Single barrel' auction sale from Champagne Paul Launois is a one-of-a-kind event.
Julien Launois will share with you an exceptional experience, the dream of champagne lovers to get their hands on 216 bottles of a high-end and tailor-made wine: Your Champagne.
Select your Single Barrel by reading Phillippe Jamesse's tasting notes available here and please fill in the information form in order to facilitate the organization of the event:
www.champagne-paul-launois.fr/singlebarrel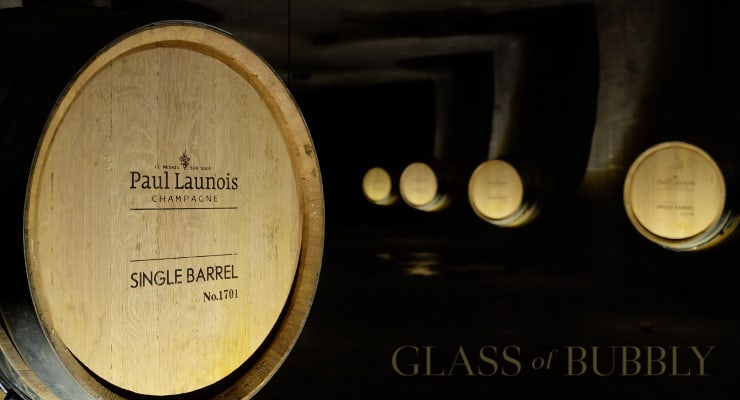 Auction
June 14th, 2019 at 6.00 pm
– On-site: 3 ruelle de l'Arquebuse 51190 Le Mesnil sur Oger
– Online: www.interencheres-live.com
– By phone: Maison de Vente Chativesle (pre-registration)
A WORD BY PHILIPPE JAMESSE
" The art of getting to know how to connect a land without losing its characteristics while enhancing its environmental potential is a specific approach that drives me. Within a vineyard, and more specifically a village where clay offers a powerful energetic substrate, it can also be cognitive to noble wood, a matter breathing and elevating when used in the right way.
The desire to add the savoir-faire of a winegrower to a cooper's one, the two of them being local and experimented, is a strong regional signature at the service of grape and soil. Those men develop the meaning of pleasure and precision through their own craft and passion for a sole purpose: connect soil, matter and origins.
Sarah and Julien Launois'attempt to intensify this relation between men soil and matter by trying to put their customers'reliance at the very center of it, encouraged me to help them throughout what I see as a personalized experience of sharing within which everybody stays free to complete their own final creation.
To sum up I would say that, each level of toasting is enhancing tension. There is no external sign for energetic raw material, just an exchange within which each barrel acquires its own character based on wideness and depth, as well as gustatory levels. This is where the customers will find the opportunity to recognize the reliance and savoir-faire of Domaine Paul Launois.
You will experience a human adventure, generous and transparent, lit up by the spark of soil and wine, within which you will find sensations of liberty and shelter as well as the insurance of a promising matter."
" The dimension of pureness is sublime. The fast aromatic persistence is gorgeous so is the style, refined and sharp, then extremely saline."
Extract from a commented wine tasting
Phillippe Jamesse
Glass of Bubbly
Executive editor of news content for the website Please enjoy the articles that we share - We hope you find our love for Champagne & Sparkling Wines both interesting and educational.