So, is going Barefoot with a Glass of Bubbly any good?
Samples are always landing in the office fridge at Glass of Bubbly and someone has to have the task of going through them all… No sympathy? OK… So Barefoot Bubbly I have here and their sparkling Pinot Grigio. I have heard much about and seen this sparkling wine from California many times during my travels, mostly in food and drink stores as well as some bars and pubs. I know it is not what one would say a fine wine option and going by their own description on their website, that is not their ultimate goal:
"How do you become the world's most loved wine brand? You start with a belief that wine should never be taken too seriously and a conviction that when you follow your heart there's no limit to how far your vine will grow." Barefoot Bubbly website.
It is important to remember at this point that I am not a Champagne / Sparkling Wine swotted up expert, my focus is marketing which I pursue with passion and do so within the industry of bubbles – I may have tasted over 10,000 different Champagne and sparkling wines, but my message of describing them still stays the same in that I speak it how it is not how the wine rule books says you should.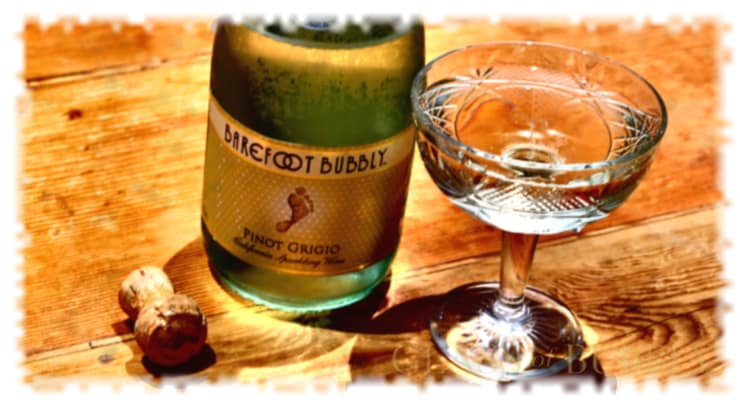 There is nothing wrong with cheap fizz as it fills a big gap in consumer spending for light and easy wine to drink on relaxed and fun occasions. Not every family barbecue has to have a fine wine master-class in order for people to enjoy the food and atmosphere, a relaxing time out on the sofa does not need you to be spending ages taking notes of aromas and flavours… Many people love wine and especially the fizzy kind cause it makes us feel good and it is a drink for the moment!
Here is where I think the Barefoot range and especially their 'Bubbly' range have really excelled as everything about the brand from the marketing to the taste of the wine spells easy to drink, easy to love and easy to remember.
Barefoot Bubbly – Pinot Grigio: "Enjoy this very well chilled and it really is such a refreshing and easy to drink bubbly. Nothing over complex in aromas, faint ripe green pears, herbs and pastry expressed. The flavours are fruity crisp giving mostly a dark green apple and baked apple sensation with a touch dry ending."
Christopher Walkey
Co-founder of Glass of Bubbly. Journalist and author focused on Champagne & Sparkling Wines and pairing them with foods.