Hollyoaks Stars Enjoy a Masterclass in Fizz with Glass of Bubbly
Discovering great fizz is what we are all about here at Glass of Bubbly and we were very pleased to be asked to deliver a recent masterclass up in Manchester to a delightful group of actors and actresses from the popular UK TV series Hollyoaks!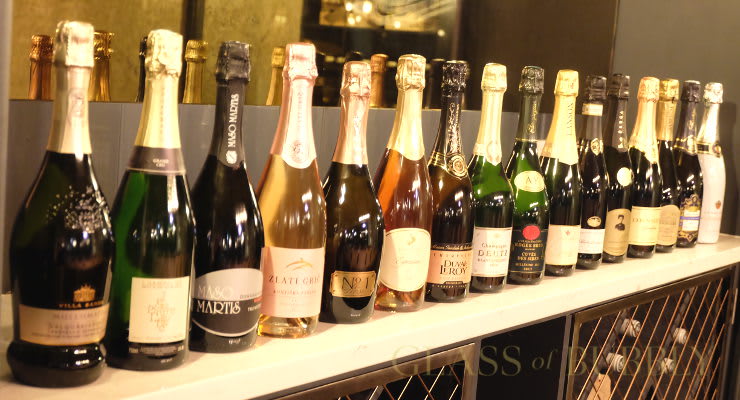 This unique masterclass included 15 Gold and Trophy winning Champagne and Sparkling Wines from around the world – A tasting of the finest fizz as selected by our judges in 2017. Christopher Walkey led the masterclass having been to many of the wineries that were being tasted on the day.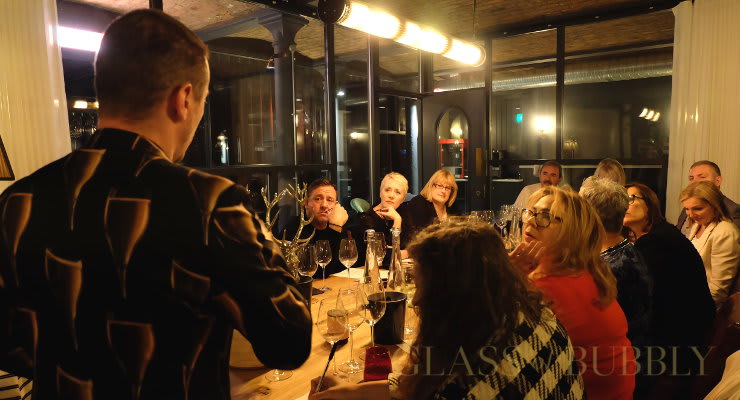 The venue was the fabulous King St Town House that offered us their very inviting and cosy downstairs wine cellar and tasting room. The table was set, the wines were chilling away so it was now the turn of the celebrities and their close friends to turn up and get the event underway! On the day there was present and past cast members of the Channel 4 TV hit series Hollyoaks:
Michelle Holmes
Ross Adams
Harvey Virdi
Nicole Barber Lane
Annie Wallace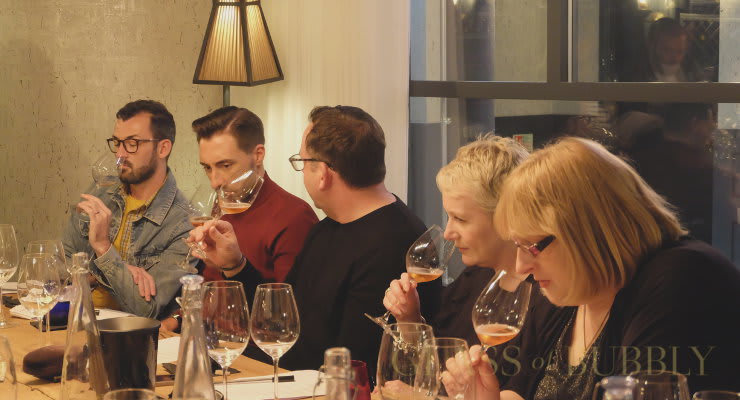 "I love delivering masterclasses and certainly more and more these days as I am constantly visiting wineries internationally so I can really enjoy not only describing the wines to my guests, but also the people behind the wines and where the grapes are grown that make up the all important fizz in their glasses. This masterclass all came about following a chat between myself and the lovely Michelle Holmes (Goodnight Sweetheart / Hollyoaks / Coronation Street etc) with an idea to showcase some Glass of Bubbly award winning wines to the cast of Hollyoaks – Great help also from Mark O'Hanlon for finding us the splendid venue that is King St Town House – such an amazing wine cellar and fab infinity pool too they have!" Christopher Walkey
During a lively and fun filled two hour fizz focused tasting a vote of hands decided which of the wines were the preferred. Not only was Champagne on the menu, English fizz too along with Slovenian, New Zealand, Trento, Prosecco along with a bonus sparkling red wine (many guests had never tasted a sparkling red) from Serrapetrona. There was also the Carynx trophy for The World's Finest Glass of Bubbly which has been in the hands of Champagne Deutz for the last year – Glass of Bubbly now have it ready to hand over to the 2018 World's Finest Glass of Bubbly which will be announced in Westminster, London (29/11/2018).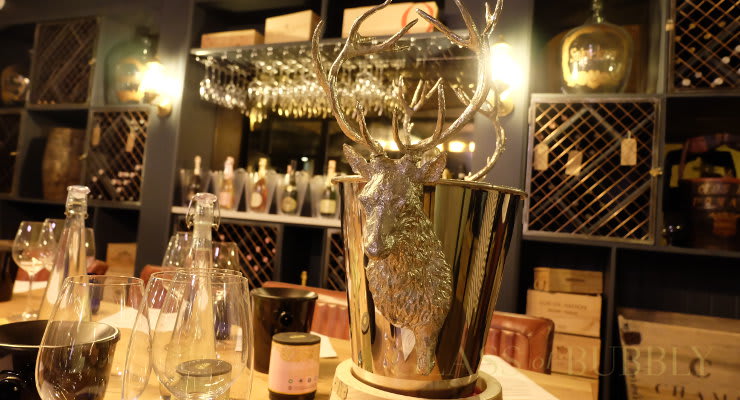 So which wines did the celebs like? The most hands went up for the Champagne Roger-Constant Lemaire 2010 Cuvée Hautes les Pieres with not far behind the Champagne Roger Brun Cuvée des Sires and No.1 Family Estate Rosé.
The list of wines shown were:
Villa-Sandi – DOCG Superiore Millesimato Brut 2016 – Gold Summer Days
Champagne Vollereaux – Cuvée Célébration Premier Cru Brut – Gold Classic & Elegant
Zlati Gric D.O.O – Konjiška Penina Rose – Trophy First Date
Champagne Duval-Leroy – Rosé Prestige Premier Cru Brut – Gold First Date
Fox & Fox – Expression Saignee Rose 2013 – Trophy Love or Hate
No.1 Family Estate – No.1 Rose – Trophy Sea Breeze
Čarga | Since 1767 – Donna Regina Extra Brut 2009 – Gold Meditation
Maso Martis – Dosaggio Zero Riserva – Gold Meditation
Denbies Wine Estate – Greenfields – Trophy Creamy
Champagne Jean-Pierre Launois – Blanc de Blancs Grand Cru – Gold Classic & Elegant
Champagne Château de Boursault – Prestige – Gold Classic & Elegant
Champagne Roger-Constant Lemaire – Cuvée Hautes les Pieres Vintage 2010 – Gold Meditation
Champagne Roger Le Brun – Cuvee Des Sires – Trophy Gastronomic
Champagne Deutz – Blanc de Blancs 2010 – The World's Finest Glass of Bubbly 2017
Champagne Lanson – Ivory Label Demi Sec – Trophy Dessert
Bonus Wine – Alberto Quacquarini Vernaccia di Serrapetrona Secco Red sparkling wine
Guests also tucked into Beech's Fine Chocolates (Prosecco and Pink Champagne truffles).
Christopher Walkey
Co-founder of Glass of Bubbly. Journalist and author focused on Champagne & Sparkling Wines and pairing them with foods.