If you are feeling Blue then…
A blue drink would for me bring back memories of child-hood days and pestering parents for a somewhat overly priced yet popular Slush Puppy and a striking blue flavour which for some reason was Raspberry! Those days may be long gone and early adulthood may have seen us drink one too many bubblegum flavour blue WKD vodka mixers, but as we have grown older then we move gracefully over to wine and bang  – Blue hits us again!
I first came across blue sparkling wine during varied judging events and they always raise an eyebrow or two amongst the wine professionals, for many it simply can not be taken seriously as many will see it as an unnatural colour – What grapes will produce this colour naturally they will say!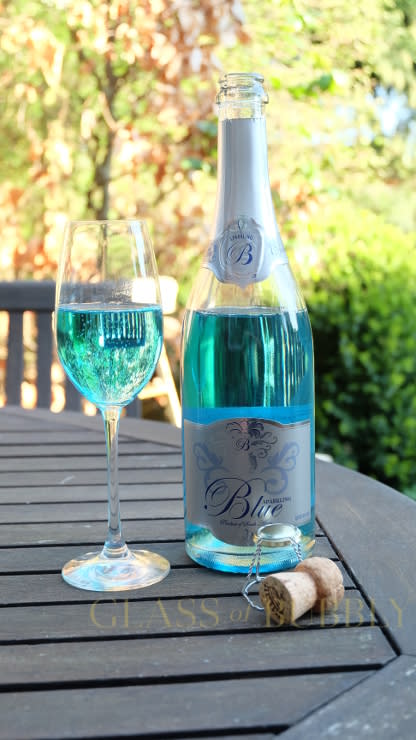 We see many sparkling wines now that are blue, for many they are trying to find that unique marketing edge to make a name for themselves and intrigue and engage buyers to spend their money with them – It works for many other alcoholic drinks, so why not sparkling wine?
My review of this example that was kindly sent to me by Andrea Göttling of Winery Warehouse:
"Well it is certainly a clear blue with a lively fizz in the glass. The aromas are quite strong offering blueberry, raspberry and candy. The taste is a sweet one, not overly complex and mostly consisting of ripe blue berry, candy and raspberry – Not overly complex and delicate enough to intrigue many wine connoisseurs though will of course offer any party / celebrations an interesting edge. If your football team plays in blue and you've won the cup – What better way to celebrate!!" Christopher Walkey.
Christopher Walkey
Co-founder of Glass of Bubbly. Journalist and author focused on Champagne & Sparkling Wines and pairing them with foods.