Michael Edwards Talks Premium Prosecco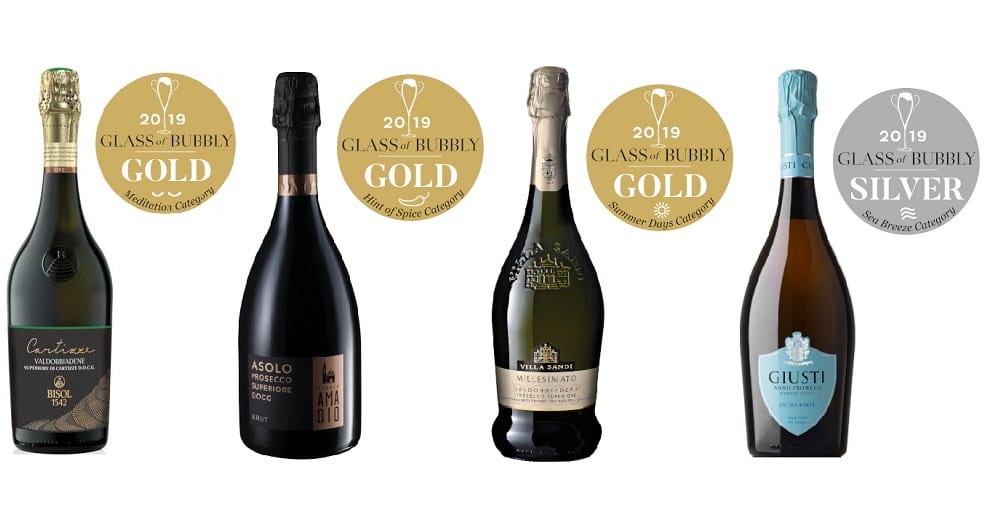 Phenomenally successful light sparkling wine of north-east Italy, the country's biggest DOC appellation, now running in a long sweep of 222 kilometres from Vincenzo in the Veneto to Trieste, close to the border with Slovenia. Recent very extensive plantings en route on the flatlands of Friuli, producing thirst quenching party wine. For more serious finely flavoured sparkling Prosecco wine, look to the classic production area, a 45 minute drive north from Venice between the townships of Conegliano and Valdobbiadene. Now promoted to the top DOCG denomination of Prosecco Superiore. Contrary to the mistaken impression of mass production this is a land of small growers devotedly working by hand the very steep hillsides of the Alpine foothills, where tractors can rarely go. Elegance and precision are the name of the game.
The 2019 Glass of Bubbly Awards were a rich celebration of top Prosecco DOCG. Here is a selection of a half-dozen personal favourites.
Bisol – Valdobbiadene Prosecco Superiore di Cartizze Dry 2018 DOCG – Gold Medal  – Meditation – For some years. I have been a great admirer of Bisol (now wholly owned by Ferrari Trento) The Cartizze is the most valuable vineyard in the district, a perfect hilltop site, giving richness and optimal ripeness. A luscious wine rightly for Meditation, better I think as a 'Dry' than as a tauter Brut. Traditionally Serve with desserts.
Tenuta Amadio Asolo DOCG Prosecco Superiore. Across the River Piave from Conegliano. The soil has deeper strains of clay. Energetic. structured wine for game. Rightly placed Gold Medal – Hint of Spice.
Villa Sandi Prosecco di Valdobbiadene Superiore DOCG Brut Millesimato 2018. A golden fruit- driven wine, direct and delightful in its ample mouthfeel. Very adaptable as a classy aperitif after a hard day and then with dressed crab. Gold Medal – Summer Days
Bisol Relio Rive di Guia – Valdobbiadene Prosecco Superiore DOCG Brut 2018. A fine example of the new category of specific hillside terroir (Rive). This one fits Silver Medal – Light and Fruity like a glove. A Fine Superiore at any time of the day or night.
Bisol Jeio Valdobbiadene Prosecco Superiore DOCG Extra Dry rather than bone- dry Brut. So, very suitable for those who like a little dosage to buffer the acids. Very good with Indian butter chicken or more traditionally sole meunière. Silver Medal – Zesty & Zingy.
Villa Sandi Valdobbiadene Prosecco Superiore DOCG Rive di San Pietro Barbozza. This is an insider's tip to one of the best buys in Prosecco DOCG The Rive San Pietro lies between Valdobbiadene and San Stefano, one of the finest cru and home to Cartizze. You get all the brilliant opulence of Cartizze at a much more reasonable price. Set rightly as Summer Days – Silver Medal, but really touching gold! Good with so many dishes.Duck breast, Summery Vitello Tonnato, Frito Misto di Mare. Apricot or Pear Flan.
Giusti Asolo Prosecco Superiore DOCG Extra Brut – burnished gold, the signalling depth of flavour and substance. A natural partner to hearty winter stews or daube of beef. But very fresh and cleansing check. Sea Breeze – Silver Medal.
Michael Edwards
Internationally respected Champagne, Sparkling Wine and food author & journalist. Ex Chief Inspector & Wine Editor for the Egon Ronay 'Restaurant Guide'.