Pinot Meunier Lovers I give you Champagne H.Blin
"Champagne H.Blin strives to capture a sense of place by focusing on the unique characteristics of the Pinot Meunier indigenous grape varietal."
I was particularly pleased to receive an invitation to a Champagne and food pairing lunch by a label that I am not too familiar with, Champagne H.Blin – I never tire of experiencing new flavours and characteristics and especially new people from within the Champagne industry whose passion it is to share with the world the fruits of their labour as such…
Pinot Meunier focused Champagne I do enjoy and H.Blin certainly did not disappoint with a wonderful selection of Champagne to taste with some refreshing and explosive flavours from vintage magnum to rosé de Saignée.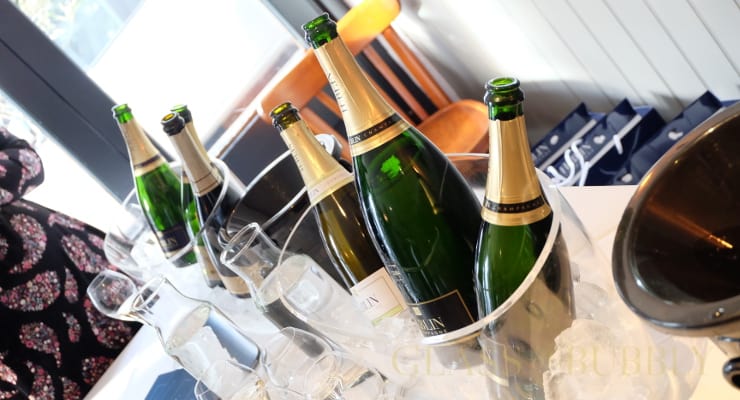 "This was my first in-depth tasting with Champagne H.Blin and I must say I was very impressed and for sure this will be what many other Pinot Meunier Champagne lovers will feel also. Strong character of aromas and flavours with each of their wine – A fine Champagne to pair with select fine cuisine." Christopher Walkey – Founder of Glass of Bubbly.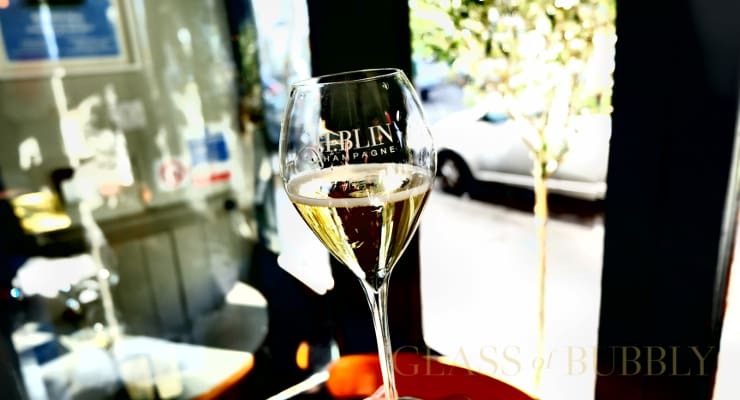 Lunch was also provided and importantly select courses that were paired with Champagne from the H.Blin range which I find is the best way to showcase quality Champagne as today many people are excited about the potential of pairing sparkling wines with food. Six Portland Road were our hosts who are located in Holland Park, London and we were treated to some very fine cuisine indeed and as I sat next to two very highly respected Champagne journalists, Michael Edwards and Giles Fallowfield, with notepad and pen at the ready, it was time to really see how Champagne H.Blin can work its magic: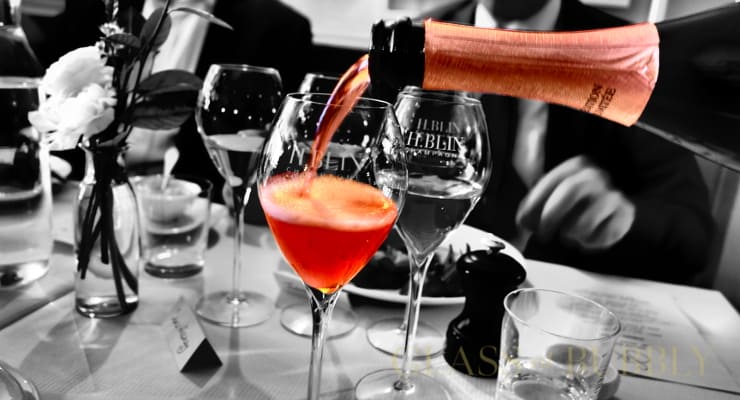 H.Blin Champagne Blanc de Noirs NV: "Pleasing nose of orchard fruits, brioche, floral and a touch of vanilla. Complex taste with white pepper, orchard fruits, pastry."
H.Blin Champagne Blanc de Noirs NV: "Chalky, earthy taste with herbal, ripe red apple flavours."
H.Blin Champagne L'Espirit Nature Organic Blanc de Blancs Extra Brut: "Dry, citrus, pink grapefruit aromas. Taste offers a crisp and dry experience with chalk / citrus."
H.Blin Champagne Millésime 2004 (Magnum): "My kind of Champagne! Brioche, honey, ripe yellow stone fruits in aromas. Taste is a delightful complex dreamy sensation of pastry, lemon zest, apricot puree, chalk and much more to excite the palate."
H.Blin Champagne Millésime 2008: "Toasty, yellow stone fruits on the nose. Slightly dry initially with crisp citrus / chalky notes then refreshing ripe yellow apples / pineapple flavours with good length. Ideal gastronomic wine."
H.Blin Champagne Rosé de Saignée NV: "A wonderful deep rosé colour. Refreshing, crisp and dry with light strawberry and black cherry flavours."
Simon Blin (grandson of Henri Blin and 12th generation grower) was in attendance and guided us through the lunch and Champagne pairing part of proceedings, I took the following notes: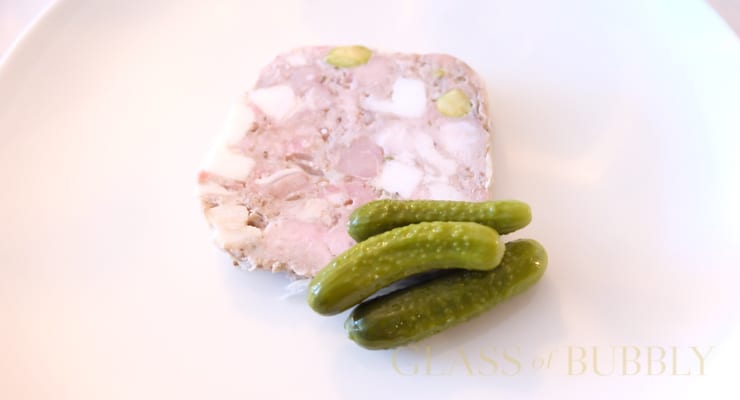 Rabbit, port & pistachio terrine – paired with Blanc de Noirs NV & Blanc de Noirs 2011: "The Champagne, both the vintage and NV naturalises the fat in the dish enabling the full meat flavours of the terrine to shine through. A nice balance to enable you to enjoy both the dish and the wine."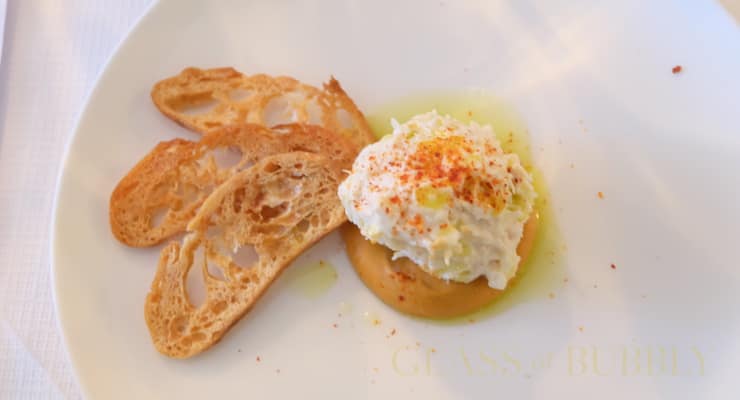 Devon Crab mayonnaise – paired with L'Espirit Nature Extra Brut Blanc de Blancs Organic: "The Champagne certainly brings out the creamy sensation of the dish and lengthens the crab flavours in the palate."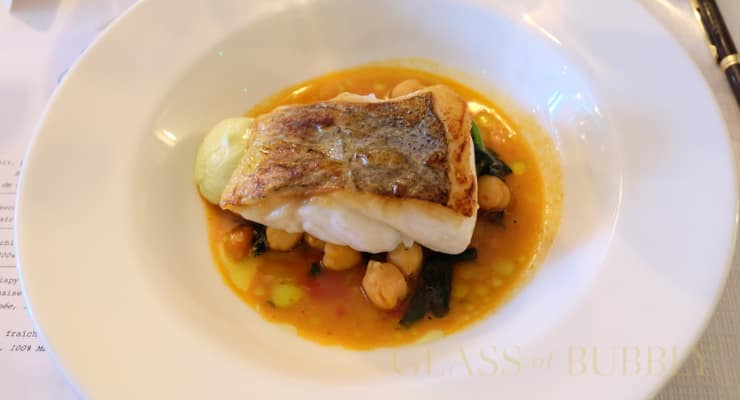 Hake, spiced chickpeas, spinach and aioli – paired with Millésime 2008 and Millésime 2004 (Magnum): "Nice balance with the wines though the 2008 vintage preferred for me here as it enabled the full juicy flavours of the Hake to lengthen in the palate – The 2004 was just a little bit too full of flavours to balance well with this dish for me."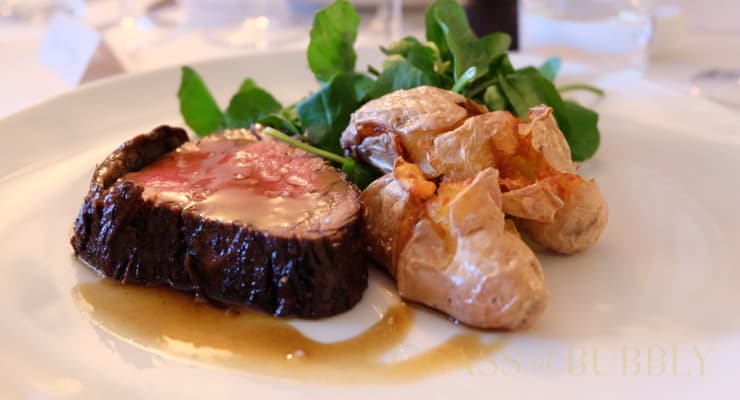 Fillet of beef, crispy potatoes, watercress and Béarnaise sauce – paired with Rosé de Saignée: "The tannins are quite strong and for this dish I was not too sure about the pairing qualities, still very much the red berry fruits here mixing with the tender and well flavoured meat…"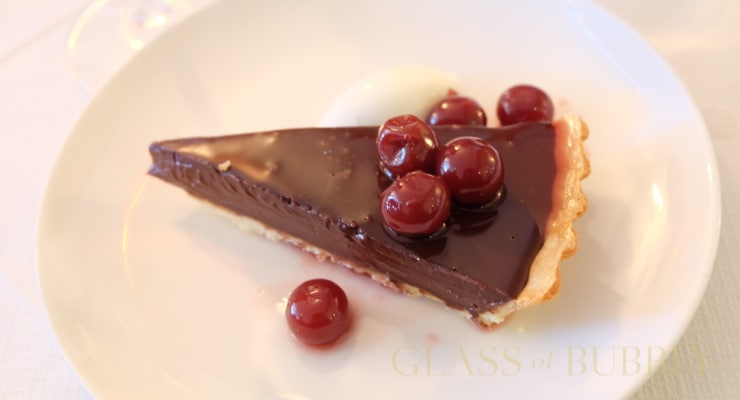 Chocolate tart, créme fraiche and griottines – paired with Rosé de Saignée: "The Saignée really cleanses the mouth of this very sweet, more'ish and sticky chocolate dish and tempts you into another spoon full – Here the Saignée works far better for me."
Christopher Walkey
Co-founder of Glass of Bubbly. Journalist and author focused on Champagne & Sparkling Wines and pairing them with foods.