Slovenian Sparking Wines – Goriška Brda and Bjana Wineries
Goriška Brda Winery
Up to the end of World War II, when the Brda Hills were split by the border into two sides, Goriška Brda on Yugoslavia side and Collio Hills on the Italian side, this area had been known as a special type of feudalism called the colonate system. Peasants had cultivated small patches of land and wine had only been produced by 17 local castles, owned by foreign nobility. The Goriška Brda Wine Cellar was established in 1957 as the largest cooperative in Slovenia, which is still fully owned by local wine growers. The Klet Brda Winery which has 1000 ha is the leading producer and exporter of Slovenian bottled wine, renowned for its distinctive style and appreciated by wine lovers in Slovenia and 26 countries around the world.
Bagueri Brut is a blend of Chardonnay, Pinot Noir and Ribolla Gialla, with a complex very powerful structure and elegance. Fruity and flowery aromas are dominant, but rounded off with a reserved bread crust note. The Bagueri Rose sparkling wine, Chardonnay and Pinot Noir, is characterized by antique pink and an outstanding blend of a gentle red fruit and citrus aroma, with a satin-like texture and clear raspberry aftertaste. Bagueri Contesse is a Charmat Method sparkling wine which rests for 10 months sur-lies in stainless steel tanks, a blend of Ribolla Gialla and some Chardonnay, fresh sparkling wine with a fruity aroma and creamy flavour.
Bjana
Bjana Family Estate is located in the heart of the Goriška Brda / Collio, winegrowing district, which lies on the Alpine foothills with a strong Mediterranean influence. Bjana sparkling wines mature in the fully restored Chateau Dorišče Cellar, one of the oldest cellars far and wide. The Chateau was built by the Counts of Gorizia in the 13th century when it bore the name Wyglan. Records from 1288 speak of Rovanus de Biglola, those from 1307 of Martin de Bilana and his son Fosch and those from 1341 of the knight Leonard from Biljana. At the end of the 15th century, the chateau was bought by the aristocratic Orson family. The Edling noblemen of Gorizia were its next owners, followed by the Lords of Dornberk. The Chateau is now in the possession of Miran Sirk and his Family.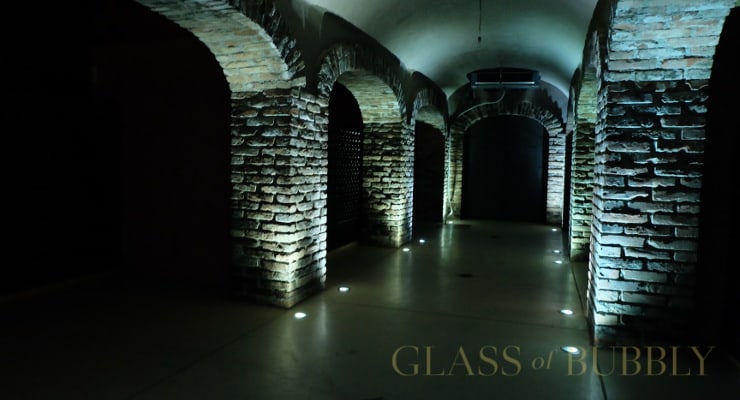 Bjana Cellar
Three grape varieties are used to make Bjana sparkling wines. Two of these varieties are typical of the wine region Champagne (Chardonnay and Pinot Noir) and one is the local Ribolla Gialla. Chardonnay gives the wine its body, rich aroma and fullness, Pinot Noir adds structure and fruitiness, while Ribolla contributes its elegance and freshness.
All Bjana sparkling wines are made using the Method Champenoise Traditional. The vinification of the still base wine is performed separately according to variety, in stainless steel vats or in 225-litre oak barriques for Cuvée Prestige. Wine maturation on the lees is a crucial component for Bjana's top quality giving it a distinctive character on the nose and palate.
Bjana produces five types of sparkling wines. Brut Zero is Brut Nature blend of Chardonnay and Ribolla Gialla without dosage and matured 36 months sur-lies, Brut Rose is cuveé of Pinot Noir and Ribolla Gialla with 24 months sur-lies. In Cuveé Prestige Chardonnay and Ribolla are the base wine that matures in French barrique barrels for 7 or 8 months and after in secondary fermentation, it matures for 42 months on the yeast.
Written by: Prof.Dr.Marin Berovic, Chairman of The World's Finest Glass of Bubbly Awards.
Glass of Bubbly
Executive editor of news content for the website Please enjoy the articles that we share - We hope you find our love for Champagne & Sparkling Wines both interesting and educational.