Slovenian Sparkling Wines – Radgonske Gorice
Radgonsko – Kapelski wine-growing region belongs to the Northern wider area of Slovenske Gorice, located on the Slovenian / Austrian border where the vine is an ancient culture and already dates back to Roman times. The history of sparkling wines in Gornja Radgona dates back to the European spring of 1848 when Radgonian Kleinošek had spent two years in Champagne, where he had learned the technology of the sparkling wine manufacturing. After his return to Gornja Radgona, his own production of sparkling wine started. His first sparkling wines were sent to the market in 1852. As a passionate gambler he had lost his property and his company and vineyards were bought by the Swiss-French Family Bouvier. In 1882, the Bouvier Family established a sparkling wine hardwood and continued to produce sparkling wine. Bouviers expanded the existing production and built many cellars in Radgona and its surroundings that are still in use today.
The Bouvier family owned the company until the end of the Second World War when the Agricultural Combinate and later a Joint-Stock Company was formed. It is also interesting to note that Jacqueline Bouvier Kennedy the wife of US President John F. Kennedy, derives from this remote family.
In the company Radgonske Gorice d.o.o. viticulture and winery are the main activities. They have 480 ha of vineyards and produce 4,500 000 litres of wine annually. Wine is processed from the grapes of its own vineyards and surrounding subcontractors. Varieties of this environment are Ranina / Bouvier (an autochthonous variety from Gornja Radgona), Gewürztraminer, Riesling, Welsh Rizling, Šipon, Sauvignon, Chardonnay, Pinot Gris, Pinot Noir.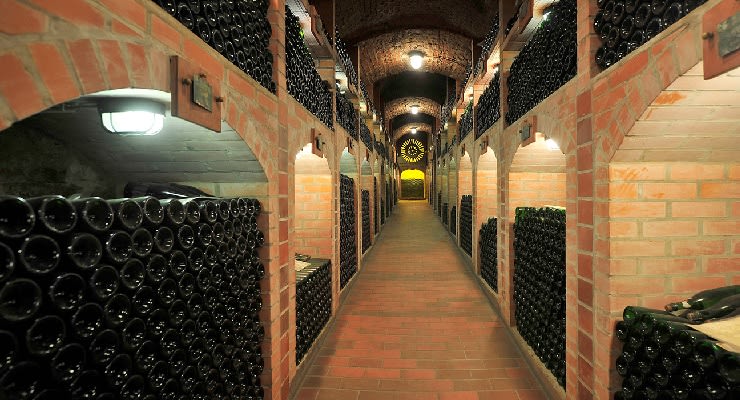 In the Radgona Heavens …
Premium line in production represents Zlata Radgonska Penina (Golden Label), a flagship in production. It is maturated on yeast for at least 24 months, with the best Millisime up to 10 years. It is vintage sparkling wine produced from pure Chardonnay from a single harvest. According to the taste, the most frequently awarded Slovenia sparkling wine, bottled as Brut Nature, Extra Brut, Brut Semi-Dry or Rose, purely Pinot Noir sparkling wine. The Golden Label line is characterized with its original Champagne type character of yeast, cream, biscuit and brioche notes, with its freshness and vibrant acid and full maturity. Golden Label sparklers are already recognized and highly awarded also in most of the International Wine Contests in EU and USA, with their Penina Rose 2012 winning the trophy in the Summer Days category at The World's Finest Glass of Bubbly Awards 2018.
Silver Radgonska Penina is produced by the Charmat Method with secondary fermentation maturated for 6 to 9 months in stainless steel tanks. The basic wine is prepared from several varieties typical of the Radgonsko-Kapelski Wine Region. Characterized by slightly lighter flavour and more pronounced fruit aromas bottled as Dry or Semi-dry and in sweet Rosé form.
Written by: Prof.Dr.Marin Berovic, Chairman of The World's Finest Glass of Bubbly Awards.
Glass of Bubbly
Executive editor of news content for the website Please enjoy the articles that we share - We hope you find our love for Champagne & Sparkling Wines both interesting and educational.