Slovenian Sparkling Wines – Vina Kobal and Sanabor Wineries
Vina Kobal
Fertile red soil at Terra Rossa is a great blessing and guarantee of a fine production of remarkable sparkling wines. Malvasia, Pinot Gris, Chardonnay and Terran are the main grape varieties in Kobal Sparkling Wines. Terroir influence is present in all four of Kobal's sparkling wines. Four wines are produced using both methods. Penina Malvasia extra dry produced by Charmat Method is a fresh fine apricot type.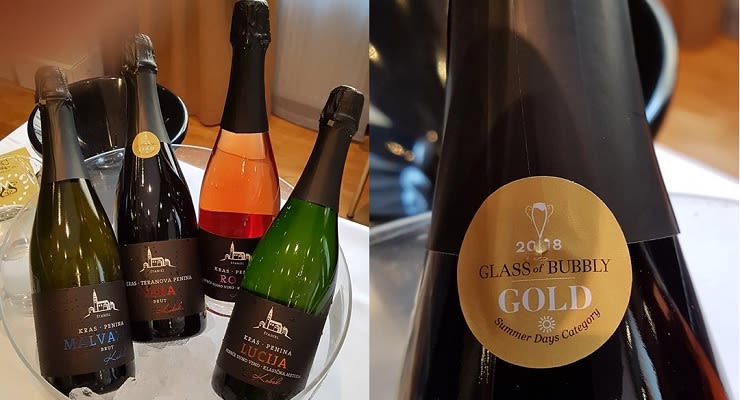 Kobal's Gold
Penina Lucija is a classic Brut, French type Champenoise, four years sur-lies is a mature blend of Malvasija, Pinot Gris and Chardonnay with fine yeast and brioche character, The Brut Rosé rests for three years sur-lies and is a very fresh raspberry and strawberry type rosé made out of Teran grapes with 6.5 g/l of fine lactic acid. Gala is a fine maturated dark carmine red with some Rubin sub notes. Terran sparkling wine has 8 years sur-lies and has a complex texture of a fine blend of dry red fruit, joined with raspberries and a fine aftertaste.
Penina Terra, a Charmat Method Brut, is a dark carmine colour with a fruity blend of raspberries and black cherries notes, it is extraordinarily fresh and fruity and won a Gold Medal in the Summer Days category at The World's Finest Glass of Bubbly Awards 2018.
Sanabor Winery
The roots of the Sanabor Family Estate are deeply anchored within the soil of Karst not far from a picturesque town of Štanjel (St. Daniel). A family wine production is run by the fourth generation of vintners. Two soils, two stories. Rich red soil and thick marl are the foundation of their vine, on the high slopes of 340 and 420 meters between Karst and Vipava Valley. Four type of Sparkling wines are produced. Ambrosia Semi Dry, Muscat base (50% Yellow Muscat, 50% Muscat Ottonel), matured for a long slightly on yeast, spicy, which fascinate lovers of sweeter sparkling wines.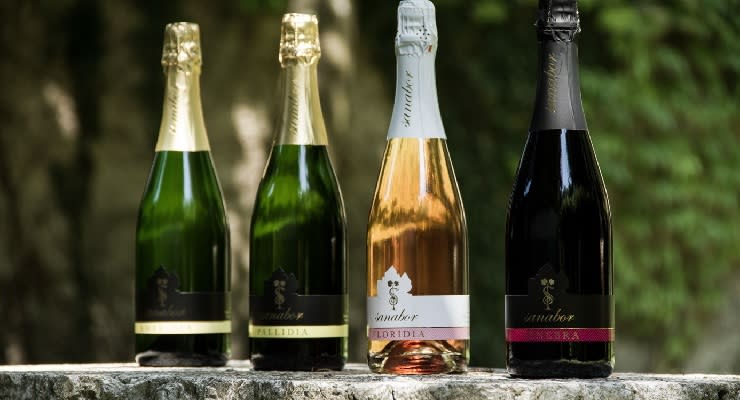 Sanabor Bubbles
Floridia Extra Brut is fresh and fruity with aromas of raspberries. These fine aromas indicate a nurtured sparkling wine which lay on yeast for a long time. It keeps all the precious flavours of Pinot Noir enriched with minerality, combined with a ripe taste of wild cherry and raspberries. Pallidia, Brut Nature, 100 % Malvasia, indicate a nurtured sparkling wine which lay on yeast for a long time, with the scent of citrus fruits and bread crust, with an extended aftertaste. Tenebra is an expressive 100 % Teran, dark red sparkling wine, decorated with dense light carmine foam with the scent of raspberries and dry plums. It is a well-groomed sparkling wine, which ripened on yeast for a long period of time with mineral content obtained in the vineyards on the Terra Rossa soil.
Written by: Prof.Dr.Marin Berovic, Chairman of The World's Finest Glass of Bubbly Awards.
Glass of Bubbly
Executive editor of news content for the website Please enjoy the articles that we share - We hope you find our love for Champagne & Sparkling Wines both interesting and educational.