Sparkling Green Tea and Gin Cocktail
As we get through our long list of samples that we warmly receive here at Glass of Bubbly we have something sparkling here that is a little different to wine – Sparkling Green Tea from Green Lady. Quite basic ingredients to give a unique flavour: Sparkling water, Green Darjeeling Tea, Carob Fruit, Nutmeg, Rose oil, Natural fruit extracts, Citric acid & Vitamin C. Price point appears to average at £1:89 per 250ml bottle.
I decided to taste them in a unique way, with bone china tea cups. I can remember attending a few Champagne events a few years back and there seemed to be a trend in serving from china teapots to china cup and saucers, it was all a new experience for me though quite fun in its own way and did not degrade at all the taste quality of the fizz being served.
Green Lady – Sparkling Green Tea: Most certainly is improved when served chilled or with ice. A floral / herbal nose with flavours including cold green tea, herbs, floral / violet, yellow rose petals.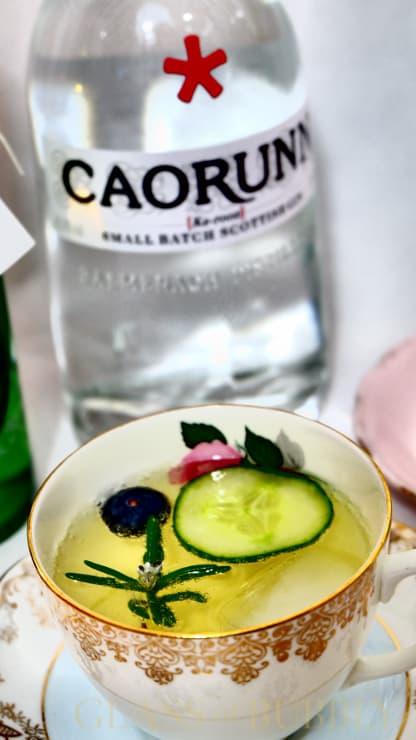 You can also easily make an enjoyable cocktail with the sparkling green tea. I decided to us the handcrafted Scottish gin of Caorunn to make a quick cocktail using just the Green Lady, a shot of gin, cucumber (not really a fan of lemon / lime in gin) and herb / fruit for visual.
Christopher Walkey
Co-founder of Glass of Bubbly. Journalist and author focused on Champagne & Sparkling Wines and pairing them with foods.