Truffle Hunter Tagliatelle and Porcini Risotto with Fizz
The versatility of sparkling wines to pair with foods from around the world is certainly now something accepted and embraced both by wine professionals and everyday consumers. No longer are we stuck with a blinkered view that only certain wines should accompany foods, we are seeing the likes of Fish & Chips and Champagne or fizz with curries, hot-dogs, pasta dishes, BBQ and much more appearing on menus and online articles frequently.
Myself I must have had a global range of foods already paired with some of the finest sparkling wine examples being produced internationally, as a preference I rarely would have a still wine at the table when having a meal – It is a long time since I have had a glass of red with steak or a glass of white with fish.
We know that fizz and food is a global trend when the wine producers themselves dedicate time and efforts to pair their labels with dishes and proudly share the results with their audiences, ie Veuve Clicquot with their wine and dine sector of their website.
As the audiences of Glass of Bubbly continue to grow the number of samples we receive to trial and review increase also, one that I was particularly looking forward to trying was from Truffle Hunter who are the UK's leading truffle experts.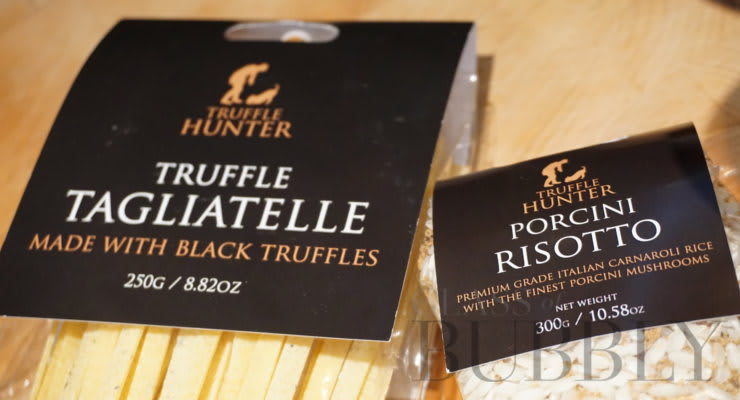 "We love sourcing the best seasonal fresh truffles, for customers who are as passionate about flavour as we are. We stock the shelves of fine food stores with truffle oils, mustards and sauces that we produce ourselves. We're the trusted choice of some of Britain's leading chefs… and fly fresh truffles to private clients and restaurants around the world. And, we're proud to supply gourmet food-lovers around the globe with a range of truffle products to be enjoyed every day." Truffle Hunter.
The samples received were the Truffle Tagliatelle (made with black truffles) and the Porcini Risotto (with finest Porcini mushrooms). I decided to accompany the tagliatelle with a seafood mix in cream sauce and the risotto to enjoy alone.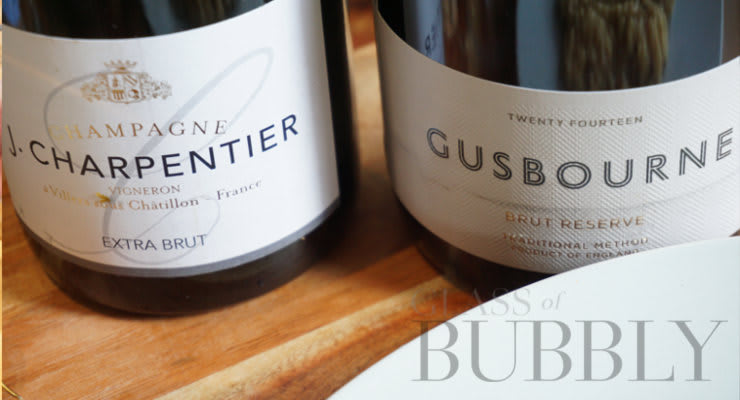 So what sparkling wines to pair with them?
Champagne J.Charpentier Extra Brut: "Pleasing honeycomb, dry citrus, green apple aromas. A snappy and crisp taste, citrus, grapefruit, green apples, chalky / minerals with a re-freshening length."
English Sparkling Wine Gusbourne Brut Reserve 2014: "A gold medal winning English Sparkling Wine for 'Spring Fling' at The World's Finest Glass of Bubbly Awards 2018. Give this wine a minute or two in the glass to show it's true colours. A summer berry fruits, touch citrus, light toasted bread, green apple aromas. Crisp and a touch dry initially in the palate then dry citrus, green apples, minerals, grapefruit flavours. I feel this could age even further and deliver better in-depth flavours."
Pairing food with wine:
*  Star Pairing – Gusbourne with Tagliatelle: "A nice balance here, wine not quite powerful enough to overtake the flavours of the dish though leaves a silky creamy and seafood flavour with faint citrus and honey expressing itself in the length. The truffle flavours are somewhat lost."
Gusbourne with Risotto: "Paired I only really experienced a soft dry citrus flavour when paired, touch too dry a combination I feel."
J.Charpentier with Tagliatelle: "Not working too well together I feel, clashes initially then a burst of dry minerals expressed to cleanse the palate with a faint dry creamy / meat flavour from the dish in the length."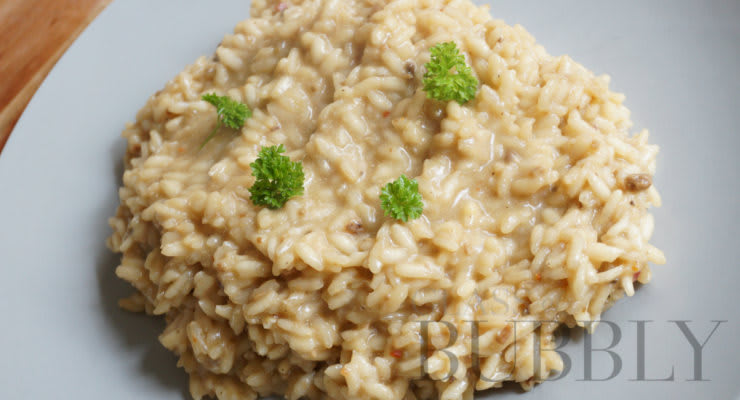 J.Charpenter with Risotto: "Brings a crisp citrus / gooseberry flavour out from the Champagne with the flavours from the dish neutralised apart from a faint mushroom hint in length."
Christopher Walkey
Co-founder of Glass of Bubbly. Journalist and author focused on Champagne & Sparkling Wines and pairing them with foods.