Understanding Prosecco Better
Prosecco for many is that new fizz fix in our lives from weddings to the cheap bottle for two at our local bar, the symphony of ripe fruity flavours it offers suits many of our palates and makes for an easy drinking solution to suit any occasion.
Fear not, this is not an in-depth educational blog that will confuse and bore you I promise, Understanding Prosecco is quite simple really, all you need to know is that it comes in three different qualities which are:
Standard Prosecco (DOC)
Superior Prosecco (DOCG)
Finest Standard Prosecco (Cartizze)
So we have DOC, DOCG and Cartizze and though each is a Prosecco, they will vary in qualities of taste (added to them we must place Spumante and Frizzante (semi-sparkling wine) which are two further styles of Italian Sparkling Wine which many consumers will come past). There are many producers of Prosecco offering varied price options for you to chose from and I always suggest starting at the lower end of the price scale to get used to the style of the wine and then scaling up on both quality of producer (some simply mass produce and, politely, it is quantity over quality) and on the classification, ie start at DOC.
Interesting fact: You will not find a Prosecco that is a rosé! The simple fact to this is that Prosecco is made only from white grapes and to produce any rosé (or red wine for that matter) you need the skin of a red grape to give it the rosé colour! If red grapes are added in the mix, even if from the designated Prosecco area, to produce rosé then it must not take on the Prosecco name and instead becomes Spumante.
Why are there three different qualities?
Prosecco is produced in Italy and has a wide designated area that is allowed to grow the grapes (Glera, Verdiso, Bianchetta Trevigiana, Perera, Glera Lunga, Chardonnay, Pinot Bianco, Pinot Grigio and Pinot Noir) that go into producing 'Prosecco'.  Mostly the Glera grape is what is used to make Prosecco and unlike Champagne, it uses the Charmat-Martinotti method, in which the secondary fermentation takes place within stainless steel tanks which makes the production of it much cheaper and faster. Champagne will always take a traditional method of production where the Méthode Champenoise is used so a second alcoholic fermentation occurs and takes place in the bottle (yeast combining with the sugar of the grapes) thus requires longer storage and much more costs overall to produce.
I must say and also many Prosecco experts and growers will say similar to me, the way in which Prosecco is classified is highly confusing and is in need, in my opinion, of having a complete change so that it communicates in simpler terms to consumers so they can both understand and engage better with the sparkling wines from Prosecco.
Without going into too much detail the following is what you should take note of as these are the most likely variations you will come past:
Prosecco DOC:
Most of the Prosecco in this classification will be of standard quality and give everyone that basic fruity tasting experience they are after, nothing too complicated and importantly nothing too expensive with most of the supermarket promotions and the bottle for £12 in the pubs and similar being DOC standard Prosecco. They can sometimes be packaged up in flashy / loud bottles such as those which are all gold or come with bling attached so to tempt the buyer in and improve the overall experience. Some DOC are in fact of very good standard and may be slightly more costly than average and it will simply be your experience and experimenting within this classification of Prosecco that will enable you to discover the producers you prefer the most.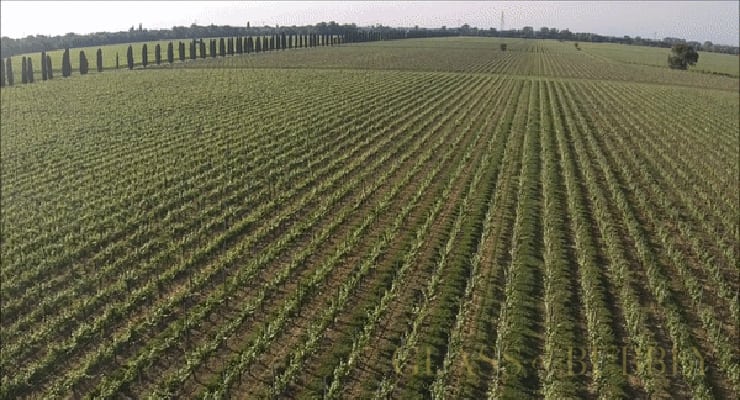 The reasoning behind the cheaper cost and classification is because of the regions the grape are grown, mostly they are flat and grapes are grown in 'massed produced' style with mechanical production and grape harvest systems in place.
Prosecco DOCG:
If you place a standard Prosecco (DOC) alongside a superior Prosecco (DOCG) then in most occasions the aromas and taste alone will communicate the difference. The region of the DOCG in Prosecco is quite a magnificent wine tourism hotspot with picturesque hill top villages and rolling hills and valleys of vineyards.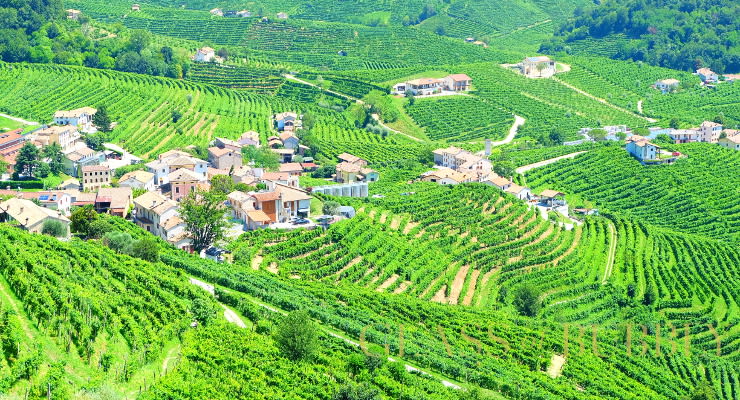 Production and quality of grapes is certainly superior in the DOCG region and harvest will be by hand mostly due to the steepness of the vineyards. DOCG wines will be more expensive over the standard DOC.
You will find that there are two main DOCG regions that this whole area is split into which are the Conegliano-Valdobbiadene and Asolo/Colli Asolani labels.
"I have explored the region of Prosecco many times and I forever continue to fall in love with each of them. The views within the DOCG region are magnificent, the pace of life so calming, the wines, foods and people such a delight. I have not explored every sparkling wine region across the globe, but without question, if I wrote a book about them all I'd feature an image from the Prosecco DOCG region on the front cover." Christopher Walkey
Cartizze:
Just like on a Monopoly board, you have now reached Park Lane and Mayfair spaces (if you play the English version of the game that is) and this is certainly a true reflection on the tiny area set within the DOCG that is the Cartizze. The prime location is reserved for the finest vineyards and only those grapes from a mere 107 hectares and 140 growers can go into making Cartizze.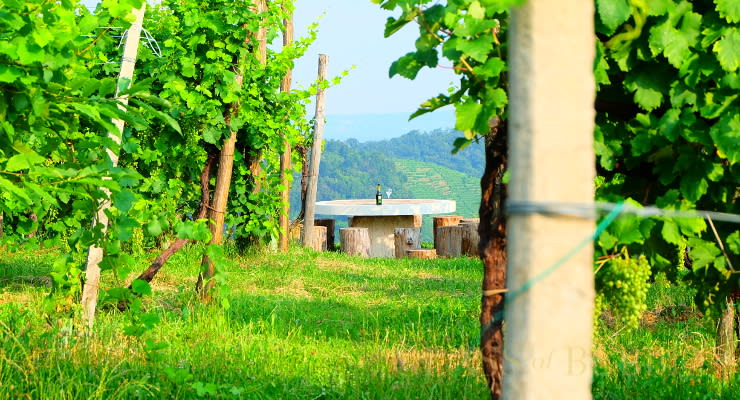 Hilltop Cartizze vineyard of Bisol.
It will be a much rarer Prosecco to see on a wine list and will certainly be in amongst the prices of Champagne if you do see one on offer – It will rarely be served by the glass.
Tips to ordering / choosing Prosecco:
If it is cheap then it is likely to be standard Prosecco (DOC).
Check the neck of the bottle if you can and there you will see either the blue DOC label or the brown DOCG label to tell you what quality you are buying.
If there is rosé Prosecco on the wine list then rest assured it is not Prosecco!
Impress your friends when ordering Prosecco and ask your waiter if the Prosecco is DOC or DOCG. Be bold and order Cartizze from your visits to fine dining locations!
Drink Prosecco when it is young, ideally within one year of its production – It is not a wine for storing!
Below are examples of the labels found on the neck of Prosecco bottles to include the DOC, DOCG (Conegliano-Valdobbiadene) and the DOCG (Asolo/Colli Asolani):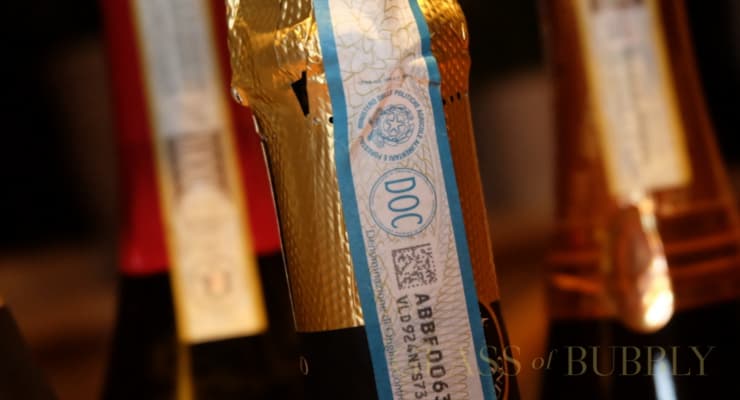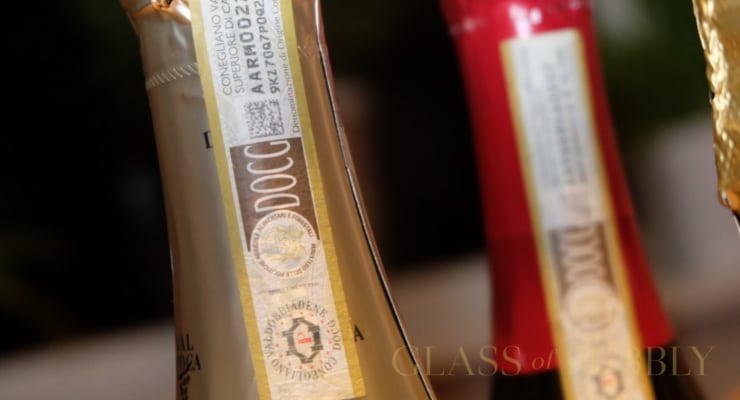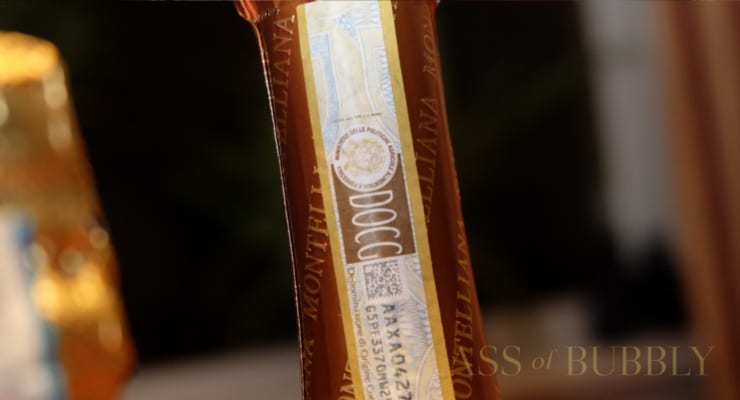 Christopher Walkey
Co-founder of Glass of Bubbly. Journalist and author focused on Champagne & Sparkling Wines and pairing them with foods.