Visit Wine Palace in Monte Carlo
Monaco is often called the top luxury holiday destination and the city-state provides some great opportunities to sample a glass or two of bubbly while visiting. Whether you're looking for somewhere to enjoy an exceptional drink or you're in the area for some Champagne shopping, a visit to Wine Palace Monte-Carlo will cover all your needs. Based in the impressive Yacht Club de Monaco overlooking the harbor, this luxury wine retailer combines both a plentiful cellar and a stylish bar to offer an excellent customer service experience.
The Wine Palace stocks an extensive range of Champagne as well as other wines, spirits and soft drinks — as many as 2,300, in fact! Everything from the definitive Moet & Chandon Imperial Brut to the upward trending Cristal Brut Orfevre coffret is represented at this well-stocked vendor. Wares are displayed in beautiful surroundings designed by locally based architects, Humbert & Poyet, allowing you to browse with ease and in comfort. If you need any assistance, then Wine Palace's friendly and knowledgeable staff are on hand to advise you on the splendid array of wines available and help you with your choices.
An enchanting place to browse some of the most exquisite Champagnes in the world, the Wine Palace has a private room dedicated to rarest wines. The selection on offer is incredible and reflects Wine Palace's goal to provide a unique and original cellar incorporating an array of handpicked sources. Add to this the bar's spectacular views across Monaco harbor and you know that you've found somewhere quite special.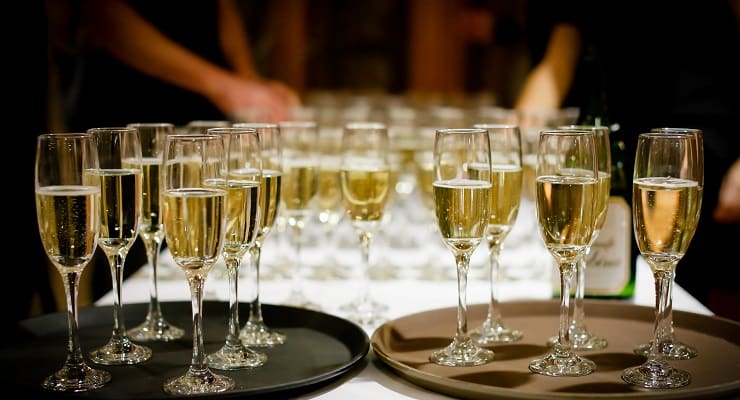 Shopping among some of the most luxurious Champagnes in the world tends to make you feel a little giddy with happiness. So, if you're still in a celebratory mood after visiting the Wine Palace, there are plenty of other places in Monte Carlo to sip a glass of bubbly as well. The principality is such a unique and intriguing place, reflecting those qualities that connoisseurs perhaps find most alluring about champagne.
One of the finest places to enjoy a drink in Monaco is the Casino de Monte-Carlo, a building easily ranked among the principality's most stunning and opulent landmarks. The casino itself boasts three gaming rooms with over 300 slot machines and 35 gaming tables, so there's plenty to keep you occupied. However, the building also plays host to the Bar des Prives, which offers chic and elegant private rooms where you can enjoy a glass of Champagne away from the crowds. These sumptuous surroundings are the perfect place to round off your trip to the European capital of luxury.
However, if you'd prefer to remain with those stunning ocean views provided by the Wine Palace, then you can head over to the Fairmont Hotel's Horizon Deck. The hotel's restaurant and Champagne bar offer a breathtaking 360-degree view of Monaco and the French Riviera, taking in all of Monte Carlo's most recognizable sights. You can enjoy this magnificent vista while savoring a glass of exquisite Champagne as you relax and indulge in Monte Carlo's version of heaven.
Glass of Bubbly
Executive editor of news content for the website Please enjoy the articles that we share - We hope you find our love for Champagne & Sparkling Wines both interesting and educational.