Which Italian fizz can impress Italian friends and cooking
Italy, for me, is one of my favourite countries that I have visited, it seems to have it all from lifestyle to architecture, from weather to the delights you will find there on the table. Trying to impress Italian friends is hard enough as it is though to do so by bringing to a party a selection of Italian fizz is another thing altogether – This was my task down in London with Arty guests and some knowledgeable Italian wine lovers.
Italy boasts some of the world's most favoured and desired sparkling wine regions and wineries, from Prosecco to Franciacorta providing spectacular styles to labels such as Ferrari from Trento and Zonin from Friuli.
The location was a family home on a tree lined sleepy road in Hampstead London, the guests were respected art connoisseurs and event planners plus some fine Italian gentlemen who brought with them, fresh that day directly from Venice, some home produced delicatesses such as cured meats and cheeses, but I had The World's Finest Glass of Bubbly Winner in my case as ammunition.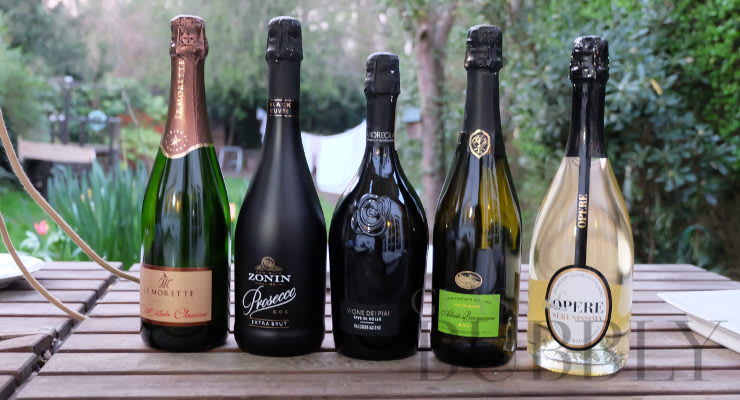 So how to impress with Italian Sparkling Wines:
Aperitif wines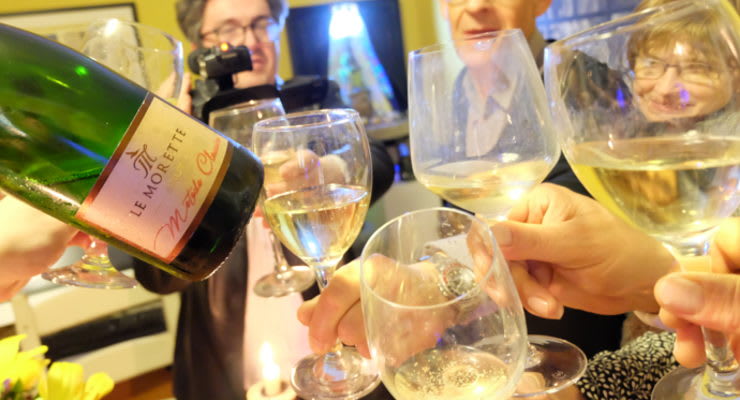 Le Morette Brut: "Crisp and refreshingly rich, touch of minerals and green apple skin in aromas and flavours with hints of burnt toast / almonds in there somewhere. A great eyebrow raiser."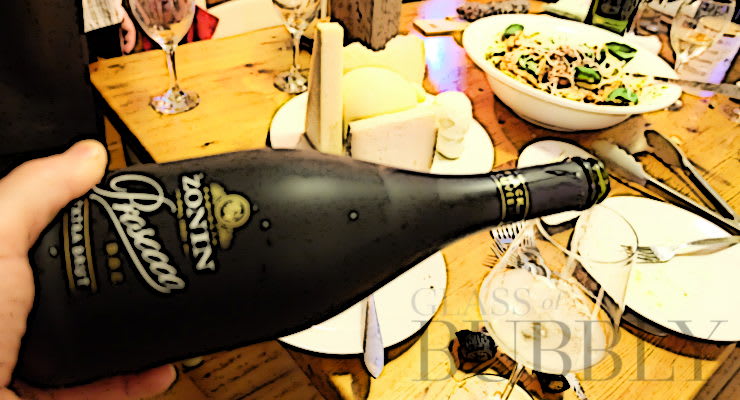 Zonin Prosecco DOC Extra Brut: "Smooth tasting dry Prosecco, plenty of subtle fruit flavours with a touch of lemon zest. Ideal for that welcoming glass of fizz at a special event."
Food Pairing Fizz
Vigne Dei Piai Prosecco Rive di Rolle DOCG: "A great balance of flavours from melon to pear with yellow blossom and more to liven the palate."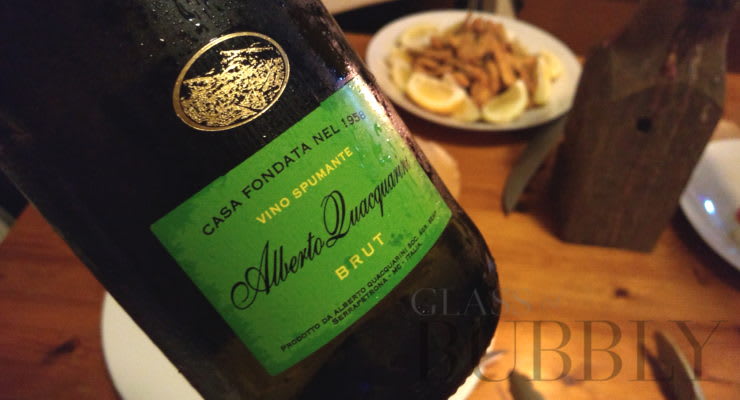 Alberto Quacquarini Brut Spumante: "A refreshing spumante from this lesser known, yet full of wonderful discoveries region of Italy – Le Marche. Bold flavours, light toast, yellow fruits, touch of minerals with lemon zest thrown in."
Villa Sandi Opere Serenissima DOC: "The World's Finest Glass of Bubbly winner for 2018 – A classic sparkling wine DOC from the great wine producing house of Italy, Villa Sandi. Dry citrus / fruity flavours both delicate and fine. Lively tiny bubbles with a sunshine golden colour. You can clearly taste that this wine will pair wonderfully with a wide range of foods."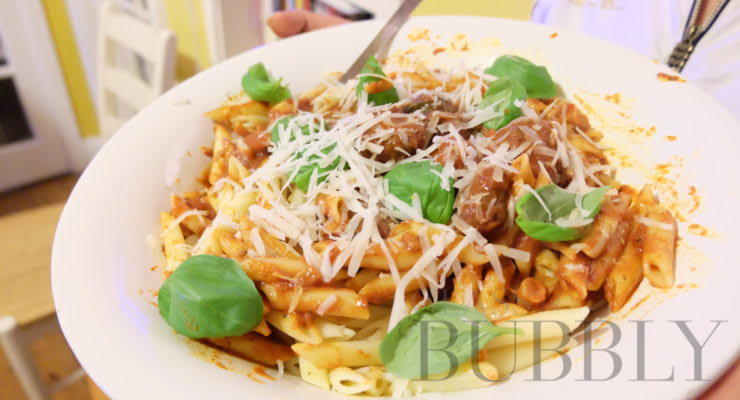 The foods
A fine selection of fresh cheese all directly from Italy to include Caciocavallo, Parmigiano Reggiano, Pecorino, Fioldilatte and Provolone. We had a nice cured meat made from wild boar (cinghiale) and dishes that were home made meatballs, fried fresh whitebait and salted cod (baccalà).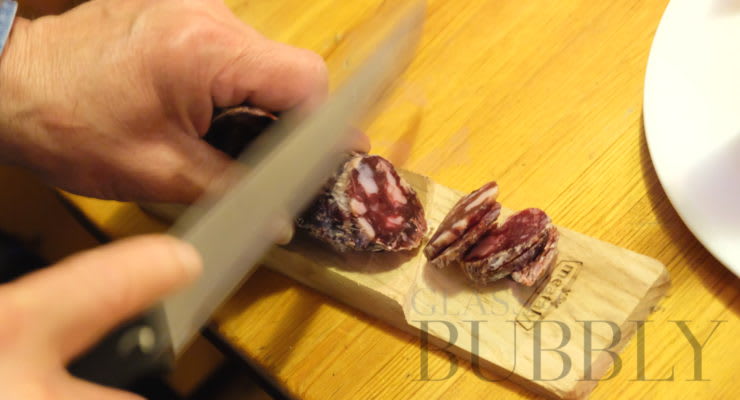 The stand out food for me of the evening was the wonderful home produced wild boar salami – Amazing flavours and it paired so very well against the Quacquarini Brut which was able to cut through the savoury greasy flavours to leave a light citrus and rich meaty length.
Star performers
The night belonged to every wine which I am pleased to say had never been tasted before by most of the guests – eyes obviously lightened when I announced we were about to taste The World's Finest with the Opere from Villa Sandi.
Quacquarini Brut with the battered salt cod (baccalà): "A most satisfying and filling dish. The oily texture is cut throw by the freshness of the Quacquarini Brut removing any and all greasy flavours allowing the savoury meat flavours and zesty citrus touch to delight the palate."
Villa Sandi Opere Serenissima with the cheese: "How well did this wine perform with each cheese – A magical bubbly for such creamy Italian cheese delights. For me, the highest scoring pairing was the Opere with the Provolone in that the crispness of the wine omits an initial citrus burst then quickly gives over to the flavours of the cheese with a satisfying creamy salty length that definitely willing you on to enjoy more…"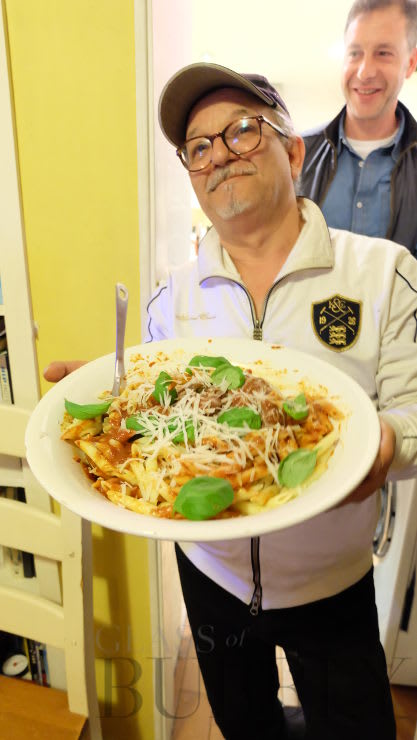 A big thank you goes out to the (Umberto) Dizenzo family for hosting this fizz tasting and arranging the foods and also to Michael Barnett from the arty world.
Christopher Walkey
Co-founder of Glass of Bubbly. Journalist and author focused on Champagne & Sparkling Wines and pairing them with foods.