The World's Finest came together at Westminster
It was always my dream to have a room full of trophy and gold winning Champagne & Sparkling Wines that were chosen by some of the best and most respected international wine judges and bubbly lovers. A room where wines are easily identifiable by consumer style titles over confusing specific wine terms or point scoring systems (not that there is anything wrong with them) and where we can draw 100's of wine professionals enjoying tasting and reviewing and importantly, understanding the wines on show.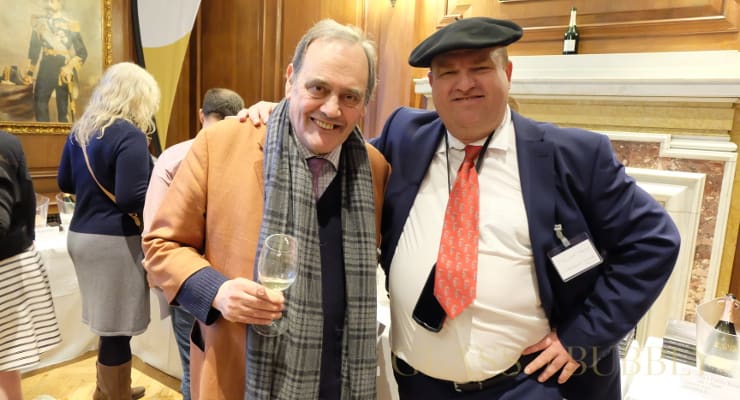 Best of friends – Two fine gentleman sharing the passion of 'Champagne' – Michael Edwards & Philippe Brun
Many people had requested to attend with an array of attendees and it is a variation of attendees which I feel is important – Yes, wine writers are important as their feedback for wine growers is invaluable, but our visualisation at Glass of Bubbly is always geared towards attracting new audiences so attendees included radio show hosts, Bloomberg, MEP's, Government public service departments, lifestyle writers along with wine buyers, restaurants, hotels, luxury cruise liner management, Sommeliers, chefs, PR companies… ie those who have the power to share their wine experiences with thousands in their networks and increase awareness and sales for the wines on show and their supporting wine merchants.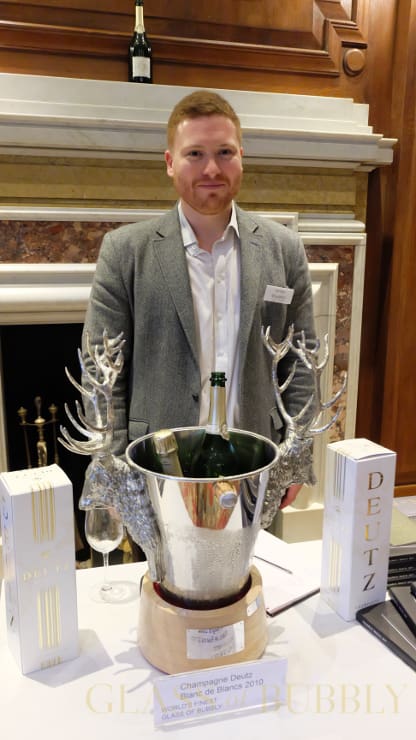 Ben Wyse from Gonzalez Byass UK with the World's Finest Glass of Bubbly 2017 – Champagne Deutz Blanc de Blancs 2010
Our world holds so many wonderful countries and cultures producing amazing and varied sparkling wines from the famous names of Champagne and Prosecco to lesser known and undiscovered countries in the world of consumer purchases (and also trade) such as Slovenia, Turkey, India, Argentina, TrentoDOC and more. I am lucky that I have visited many sparkling wine regions from the big Champagne houses on the Avenue de Champagne to small producers only making in the 100's of bottles of bubbly a year with such basic tools in the likes of Georgia – But the common thing I see here with them all is passion and a desire to please us with their wines.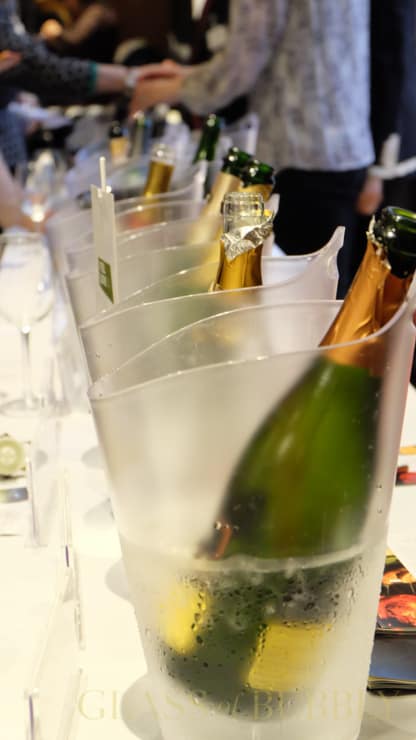 As with any awards we need to only have a very small percentage that take away the big prizes and on 24th January 2018 at the Marriott County Hall in Westminster we had on show some of the world's finest. Many different aromas and flavours, reds, rosé, bruts, vintages and more – Bubbly to pair with fine foods to those which would be ideal to have on your first date.
A room filled with so many wine professionals from many different countries made for a positive atmosphere of discussions and note pairing for the following Trophy and Gold winning wines:
Trophy Winning Wines:
Meditation: Champagne Deutz – Blanc de Blancs 2010
Dessert: Champagne Lanson – Ivory Label Demi Sec
Classic & Elegant: Champagne Laurent Lequart – Millesime 2008
Gastronomic: Champagne Roger Le Brun – Cuvee Des Sires 2011
Creamy: Denbies Wine Estate – Greenfields
Love or Hate: Fox & Fox – Expression Saignee Rose 2013
Sea Breeze: No.1 Family Estate – No.1 Rose
Fruity & Floral: Vinakoper – Capris Refošk
First Date: Zlati Gric D.O.O – Konjiška Penina Rose
Gold Medal Winners Vintage:
Champagne Lanson – Gold Label 2008
Champagne Autreau – Prestige les Perles de la Dhuy 2011
Gold Medal Winners Meditation:
Champagne Roger-Constant Lemaire – Cuvée Hautes les Pieres Vintage 2010
Čarga | Since 1767 – Donna Regina Extra Brut 2009
Maso Martis – Dosaggio Zero Riserva
Gold Medal Winners Dessert:
Zonin – Bracchetto
Schroeder – Deseado
Gold Medal Winners Classic & Elegant:
Champagne Château de Boursault – Prestige
Champagne Jean-Pierre Launois – Blanc de Blancs Grand Cru
Champagne Roger-Constant Lemaire – Cuvée Trianon
Champagne Vollereaux – Cuvée Célébration Premier Cru Brut
Champagne Charles Legend – Brut Royal
Champagne Delavenne Pere & Fils – Grand Cru Brut Reserve
Medot – Brut Rose
Pongracz – Desiderius
Gold Medal Winners Gastronomic:
Champagne Delavenne Pere & Fils – Grand Cru Brut Nature
Champagne Laurent Lequart – Blanc de Meunier Brut Nature
Champagne Roger Brun – La Pelle 2012
No.1 Family Estate – Cuvee Virginie 2009
Gold Medal Winners Summer Days:
Giannitessari – 60 Mesi Lessini Durello
Champagne Charles Legend – Blanc de Blancs
Villa-Sandi – DOCG Superiore Millesimato Brut 2016
Gold Medal Winners Creamy:
No.1 Family Estate – No.1 Reserve
Medot – Brut Cuvee
Gold Medal Winners Sea Breeze:
Wijnkasteel – Zilveren Parel (Silver Pearl) 2011
Champagne Lanson – Green Label Organic
Giannitessari – 36 Mesi Lessini Durello
Guido Berlucchi & C.Spa – 61 Brut
Gold Medal Winners Fruity & Floral:
Bolney Wine Estate – Cuvée Rosé – 2014 vintage
Stoka – Sparkling Teran Prima 2011
Gold Medal Winners First Date:
Radgonske Gorice D.D. – Zlata Radgonska Penina Selection
Christopher Walkey
Co-founder of Glass of Bubbly. Journalist and author focused on Champagne & Sparkling Wines and pairing them with foods.