Franciacorta, Bubbles like Diamonds
Have you ever wondered why women are so fond of diamonds?
Is there a reason why each time they see those stones they act like magpies trying to get them?
Is that because that their shimmer enhances their beauty?
Or makes them more self-confident? Or just because often diamonds are a symbol of love? Who knows…
Most of you will remember these lines sang by an astonishing woman wearing long black gloves and blush evening gown while adorned by fine jewels:
"Time rolls on and youth is gone and you can't straighten up when you bend,
but stiff back or stiff knees you stand straight at Tiffany's…diamonds… diamonds… I don't mean rhinestones… but diamonds… are a girl's best… best friend"
What an incredible performance Marilyn Monroe gave speaking about diamonds, further proof how much women love them.
However, these precious stones are not the only ones able to capture the attention of those who love sparkle. What about bubbles? I'm not talking about regular drink bubbles but tiny, joyful and ravishing spheres that grab people's eyes and tickle their tongues and what about that lively sound they make? The popping effect means one thing in every language worldwide: happiness. This is probably the main reason why bubbles are produced everywhere representing a strong link among people whatever origin, age or culture. They are simply loved for bringing a ray of light in our lives.
If you are seeking an Italian fizz to brighten your mood, then Franciacorta would satisfy your highest expectations.
The cultivation of vines has ancient origins on the hills of Franciacorta, as evidenced by the findings of prehistoric grape seed and the writings of classical authors such as Pliny and Virgil.
The area known as Franciacorta lies in the heart of Lombardy bordering Lake Iseo. It's approximately 200 square kilometres and includes 19 municipalities in the province of Brescia.
The morainic origin of this area gives the soil an extraordinarily rich mineral content that, along with the variety of its components, determines the key factors for high quality viticulture, which can be fully appreciated in the sensorial aspects of every Franciacorta.
Alongside the production of Franciacorta DOCG in different varieties such as Rosè, Millesimato and Riserva this land provides an exclusive sparkling wine called Franciacorta Satèn made from a blend of Chardonnay and Pinot blanc up to a maximum of 50%.
As smooth as silk and iridescent like the classiest fabric, this wine also offers a soft taste as a result of a careful selection of the base wines and low bottle pressure of below 5 atmospheres. Produced exclusively as a Brut type.
Drinking a glass of Satèn is like being wrapped in an evening stole that gives you a pleasant and silky feeling.
In particular, the Franciacorta DOCG Satèn made by Lo Sparviere in Monticelli Brusati in the province of Brescia reflects the elegance and the exquisite taste of this land.
Creamy, refined and lively it's obtained using the method Champenoise following 24 months on lees maturation.
It is reminiscent of flowery notes and pastry. On the palate it's ample, crisp and mineral.
It is perfect as an aperitif and it charms the palate if paired with risotto prepared with shrimps, octopus and shellfish by the Executive Chef of the Gentleman Hotel.
The satiny taste of Lo Sparviere Satèn perfectly matches the creamy texture of the dish creating a perfect luxurious match.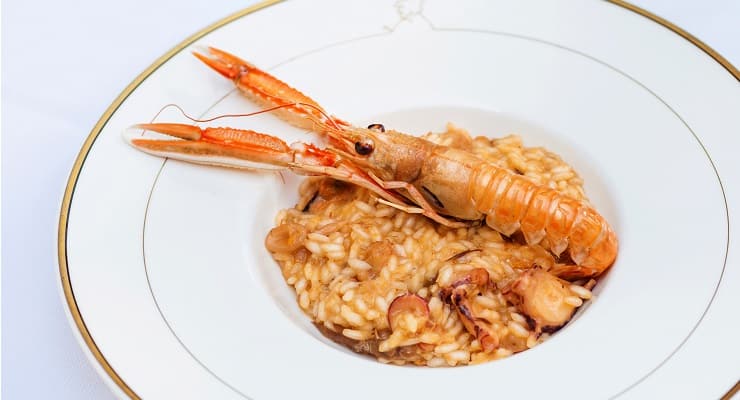 While looking at a glass of Satèn you'll be won over by its brilliance that is no less than that of a precious stone.
There is no doubt that whether a ray of light comes from a diamond or a bubble, in both cases its captivating glow will continue to be part of people's lifestyles by fascinating senses and enriching souls.
Necklace courtesy of World Diamond Group
Stefania Ruffo
Location credit: The Gentleman of Verona Grand Relais
Stefania Ruffo
Wine Educator at Università del Gusto, Wine Writer at Glass of Bubbly. Owner and Founder at Enjoyourwine. Find me on Twitter - @enjoyourwine