The Perfect Tequila Sunrise Champagne Cocktail
If you love Terry's Chocolate Orange then you'll absolutely love this Cocktail
How To Make A Tequila Sunrise Champagne Cocktail
You'll Need:
Tequila
Brut Champagne
Grenadine Syrup
Orange juice
Ice
We used and recommend you try Tequila Casa Dragones Blanco from Mexico, this is a small batch of only 736 bottles and each bottle is signed. "It is a very nice and enjoyable Tequila to drink."
Tasting Notes: "Hints of Smoky Wood, Crushed Herbs, Cinamon, Black Pepper and Spicy Chocolate."
The Champagne we used was Delavenne Père et Fils Grand Cru Brut Réserve, 60% Pinot noir and 40% Chardonnay, this won a Gold Medal in 'Classic and Elegant' in the Glass of Bubbly 2017 Awards.
Tasting Notes: "A smell of pastry and sweet fruits with a crisp dry taste. This Champagne won a gold medal in the Glass of Bubbly 2017 Awards in Classic and Elegant."
You'll also need some Grenadine Syrup, if you don't have any in your house then I recommend you give Teisseire Grenadine a try.
Any kind of orange juice will do fine.
And an ice cube or two depending on what glass you'll be using.
Let's Get Started
Put in the ice cube or cubes into the glasses.
Pour in a little Tequila.
Fill up to about 60% with Orange Juice.
Add a shot of Grenadine.
Then fill up with Champagne.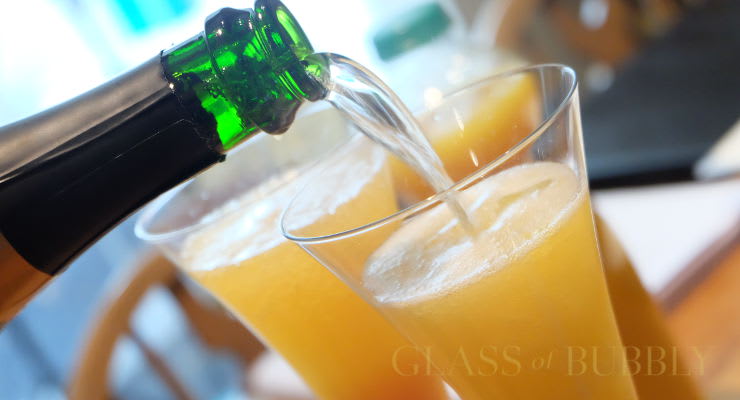 And there you have it your lovely Tequila Sunrise Champagne Cocktail.
Tasting Notes: "It blends very well together, It's incredibly well balanced and smooth. the top orange/yellow layer starts off tasting like toffee, caramel and Terry's Chocolate Orange, the further you get down the sweeter it tastes. It is exactly like taking a bite from Terry's Chocolate Orange, the Tequila is the main body of the cocktail expressing smoky/toasty notes."
Oliver Walkey
Champagne and Sparkling Wine Writer, Focused on Bringing the Exciting and Fascinating World of Bubbly to You.