Fine Dining at Margot with the World's Finest Glass of Bubbly
I do enjoy the range of Champagne from Deutz as they offer so much in the style and quality of this great wine region enabling them all to easily be paired with fine foods as well as being enjoyed on their own. Each of their range is unique and holds its own personality that is expressed by aromas and flavours to delight the lucky holder of the glass of its Champagne.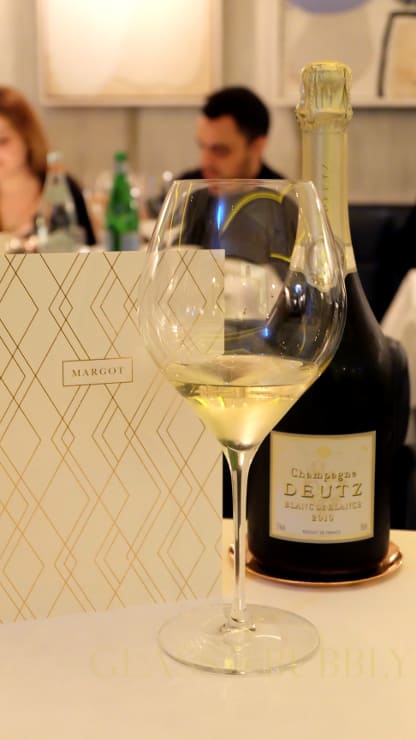 It was another very welcomed Champagne and fine food pairing meal for myself of which I never tire of as there is so much to learn from each event. The skills of the chef in deciding the menu, the winemaker in providing us with the wine and between them both creating the relationship between foods and each glass of Champagne poured.
The venue is important to mention here as between themselves and their house Champagne in Deutz, they wanted to offer guests a unique chance to experience an evening that many people would envy involving a five course dinner with each paired with a separate label from Deutz. The Wine Dinner was held at Margot restaurant located in the vibrant and cultural Covent Garden in London.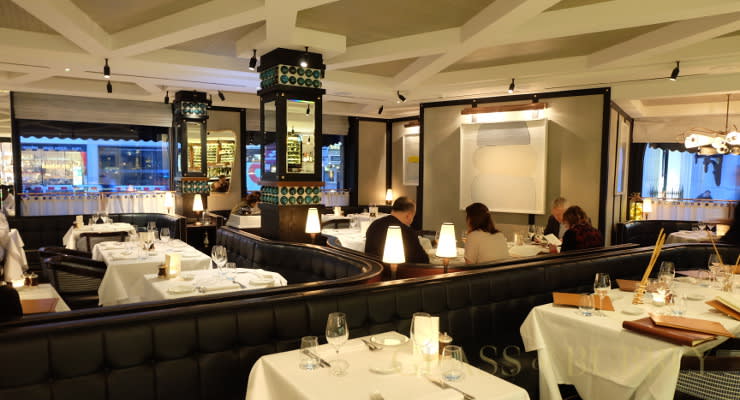 Margot is a fine dining location ideally positioned to serve pre-theatre, post-theatre guests with classic Italian cuisine with a focus on quality, seasonal ingredients and draws inspiration from Italy's diverse regions. The location is convenient in being just a few minutes walk from the likes of Holborn tube station and its neat frontage welcomes you into a high quality interior.
Paulo de Tarso and Nicolas Jaouën are co-proprietors of Margot each with an impressive selection of previous locations of which they worked in internationally providing each with their particular attention to detail that is visible the moment you enter the premises and most certainly carries through in their staff and the foods / wines served.
"We have a strong story myself and Nicolas and we've worked hard to get to our stage and to share Margot with our clients." Paulo de Tarso
"Elegance, quality and passion is why we chose Champagne Deutz which very much represents our values here at Margot." Nicolas Jaouën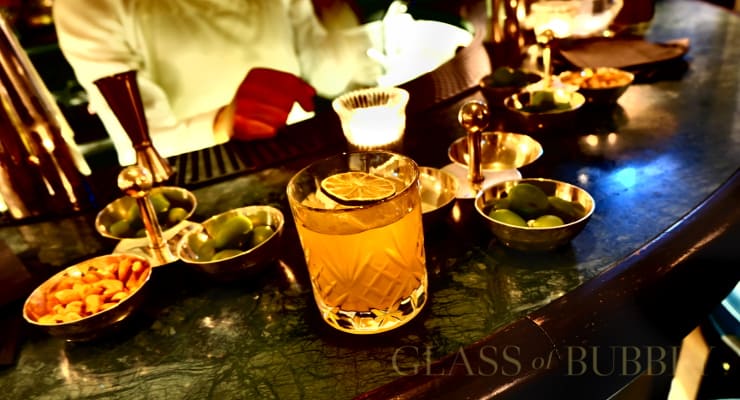 So on to the very fine menu as selected by Margot's chef, Maurizio Morelli and each of the Champagne paired through the five courses.
Following an initial cocktail welcome from the team at Margot and Champagne Deutz, a relaxed downstairs dining area enticed us over to our named places to commence the evenings 'Dinner Menu'. My thoughts on each of the course and how well they paired with each Champagne is below: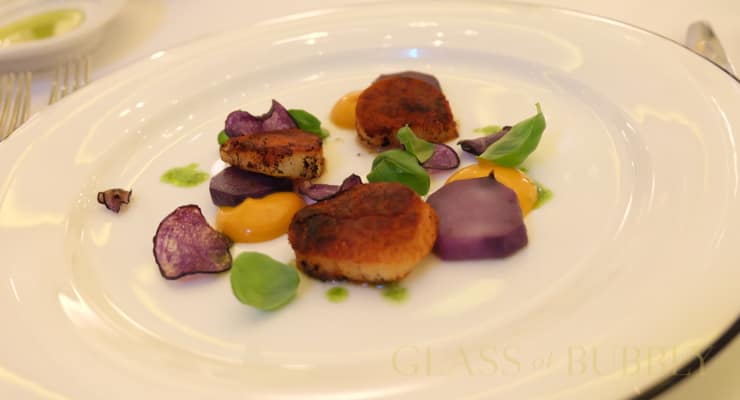 Seared scallops with purple potatoes and red peppers – Paired with Champagne Deutz Brut Classic NV: "The food was very fine and the Brut Classic from Deutz is highly refreshing and crisp so it was really down to how seared each piece of scallop was, the lesser seared the better when paired in my mind. I may have preferred a slightly sweeter edge to the source as this may have combined better in the palate with calming the acidity of the wine."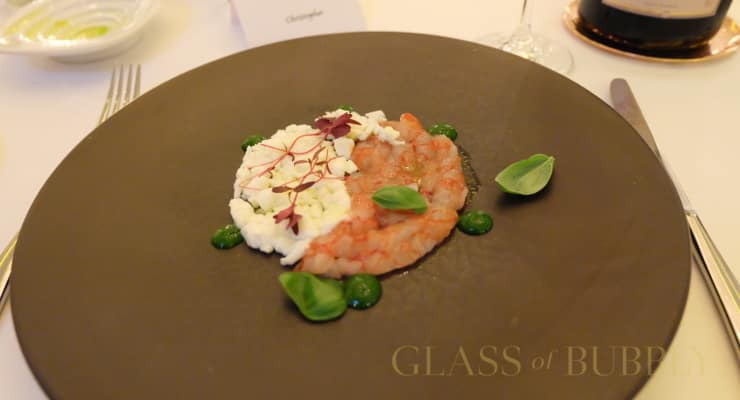 Red Sicilian prawns carpaccio with buffalo mozzarella and basil sauce – Paired with Champagne Deutz Rosé Brut NV: "The nice herbal hints to the dish really works well with the rosé Champagne. A refreshing and lively combination."
Rigatoni with Cornish crab meat, samphire and red sweet chilli – Paired with Champagne Deutz Blanc de Blancs 2010: "A nice kick in the combination here, both flavours from food and wine combining well to enhance all flavours."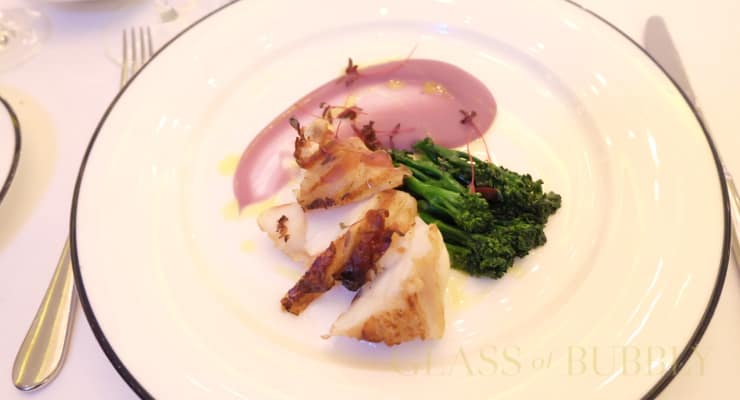 Roast monkfish wrapped in pancetta with purple potato sauce and tenderstem broccoli – Paired with Champagne Deutz Brut 2012: "The dish brought out the delicate smooth caramel and honey flavours of the Champagne, enjoyable pairing. I really do enjoy the 2012 from Deutz and I feel it is at the perfect time to be enjoyed as it offers soft citrus flavours with a body of caramel, yellow stone fruits and pastry notes."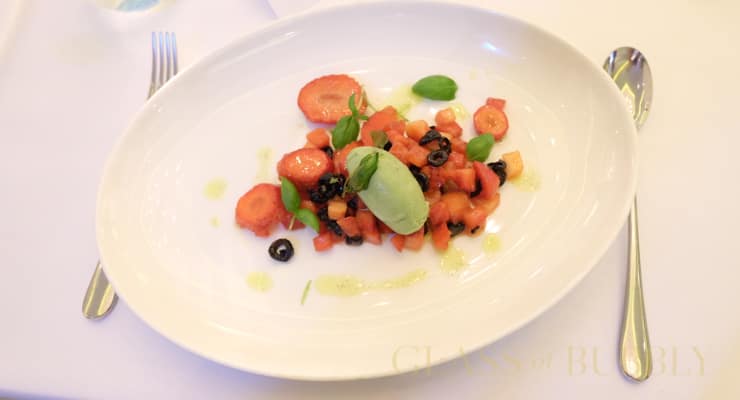 Strawberries with mixed wild strawberries with vanilla olive oil basil ice cream and caramelised black olives – Paired with Champagne Deutz Brut 2000: "The Champagne is a complex and satisfying bubbly experience with flavours to include soft sweet citrus, caramel, baked apples and honey, you must enjoy this wine in a standard white wine glass over a flute! The pairing was a little sharp in the fruits from the dish and was only a slight satisfactory combination, would have needed slightly more cream base to the dish I feel to be less aggressive against this label from Deutz."
Christopher Walkey
Co-founder of Glass of Bubbly. Journalist and author focused on Champagne & Sparkling Wines and pairing them with foods.