Glass of Bubbly Awards sponsors Yomdel explain about increasing LEADS & INCOME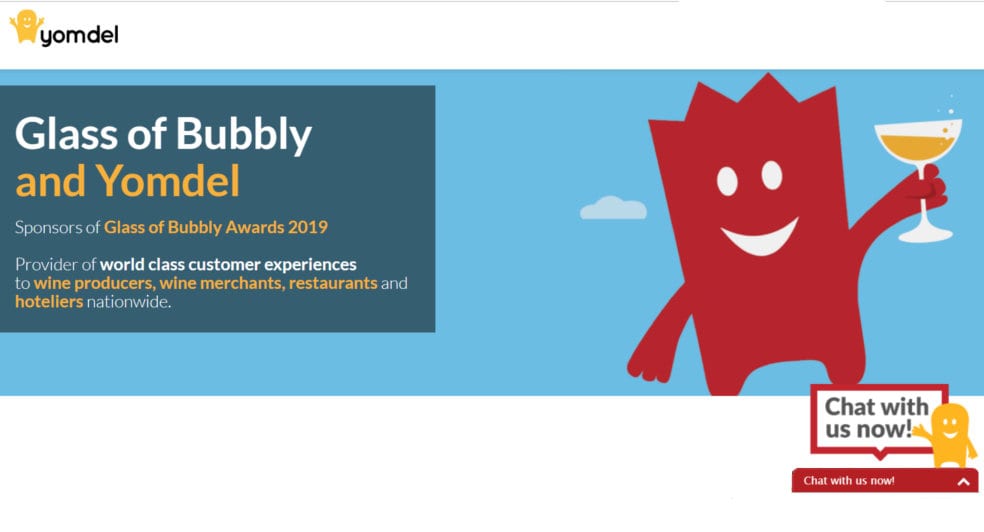 Case study: Camm & Hooper achieves 25:1 ROI using Yomdel 24/7 fully managed live chat
"Yomdel have supplied us with well over 1,400 leads for Weddings and Corporate Events with a potential value of over £10 million!"
said Rebecca Hadley, Head of Marketing.
Camm & Hooper specialise in delivering exceptional events in some of London's most iconic venues. Banks, warehouses, townhouses, libraries; reimagined and transformed by Camm & Hooper, hosting Weddings, Conferences, Corporate Parties, Roadshows, Fashion Shows and much more.
After opening The Banking Hall in 2014, as with all event venues, the critical objective was maximum bookings and minimum vacancy! Significant marketing budgets were devoted to driving quality traffic to their website to generate enquiries, but in an internationally competitive market more was needed to maximise conversion to full enquiry and booking.
They needed to maximise return on every marketing pound spent generating visitors, by optimising conversion to enquiry. And done in a way that fully represented their brand values and experience expected by high value customers.
Yomdel are the UK market leader in 24/7 managed live chat, serving travel, hospitality and leisure brands, and matched Camm & Hooper's two key requirements perfectly: customer experience experts who could look after high-value, international web visitors, day and night seven days a week, and also nurture opportunities through to potential booking, requiring a significant amount of detail and qualification to address the enquiry successfully.
24/7 cover is something Yomdel is hugely experienced in, and with a comprehensive onboarding process, Yomdel deliver the right brand experience and also produce the enquiry conversion results required in a very short space of time.
"We have fantastic, unique venues, and a great website with a clear, structured plan to drive traffic there. The missing link was our ability to engage with those web visitors, especially at night and at weekends. Yomdel have a very structured and confidence building process, and once live we knew we'd made the right decision."  Rebecca Hadley, Head of Marketing, Camm & Hooper
By building a client specific Knowledge Bank, Yomdel's comprehensive process ensures that their live chat operators fully understand the client business, and represents the brand with tone, style and outcomes that prospective clients expect.
Yomdel's 5 step Conversion Process proactively nurtures enquirers to become prospective customers. This was a key differentiator for Camm & Hooper, underlining their focus on maximising return and helping to grow their business.
Customer satisfaction scores for Camm & Hooper run at 98%, smashing all normal industry standards.
Yomdel converted a full 25% of all chats into leads, which simply would not have been possible from the Camm & Hooper website beforehand.
"Yomdel have supplied us with well over 1,400 leads for Weddings and Corporate Events worth over £10 million.  Business directly won has resulted in a phenomenal ROI of 25:1, such is the value of Yomdel services. And crucially it has also added to our brand value, by enhancing our customer experience."
Yomdel are a main sponsor at The World's Finest Glass of Bubbly Awards 2019 and will be working closely with us over the coming months educating wineries, wine merchant and more within the industry on how to increase lead enquiries and sales for Champagne and sparkling wines.
Yomdel provide award winning, fully managed live chat to the travel, hospitality and leisure sectors, plus many more UK wide. Contact them at www.yomdel.com, and test their chat! Email [email protected] or call 01403 616000.
Glass of Bubbly Content
Content shared by this account is either news shared free by third parties or sponsored (paid for) content from third parties. Please be advised that links to third party websites are not endorsed by Glass of Bubbly Ltd - Please do your own research before committing to any third party business promoted on our website.