Supermarket Fizz: Part 3 Aldi's Valentine's Range 2018
Many millions of people across the UK will no doubt be celebrating in one way or another Valentine's Day from that special romantic dinner to just about remembering, on your way back from the office, to by a bunch of flowers for that special lady in your life.
So, in amongst the roses, the chocolates, the fine cuisine and music there will obviously be a few bottles of bubbly on chill too and lots of us will get this fizz fix by visiting our local supermarkets to seek out the offers in the wine aisle. No doubt many prime spots on the shop floor will be dedicated to Valentine's Day as we lead up to February the 14th (why is Valentine's Day on February the 14th?) and many will be filled with Champagne and Prosecco offers and selling many 100,000's if not millions of bottles!
It is quoted as being around a third of all wine consumption at home is purchased at supermarkets so a walk down the drinks aisle is not an unpopular past time for many of us and certainly supermarkets today have a wide choice for us and do indeed spend more time to source better quality wines to pick from. Offers are a regular occurrence to bring in the footfall (and web visitors for those of us who shop online) as many of us cannot resist a offer such as Champagne for under £10 or a case of Prosecco for £20 which Lidl famously did last year (£3.33 a bottle of Prosecco that works out as)!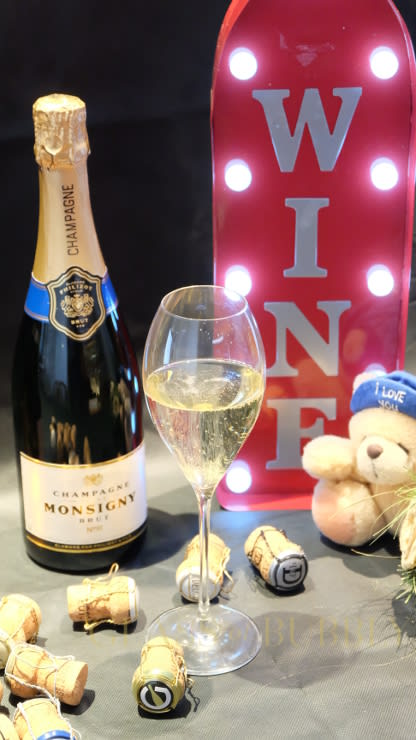 A bottle of bubbly is a sure way to light up any event, it is truly amazing that this still works today as it has been doing for many years previously, from birthdays to weddings, beach parties to those romantic moments – pop open the bubbly and our mood changes. Romance is certainly well connected with a glass of bubbly so what better way to impress on your first date, to show your loved one that your love is still strong or simply because you are pleased to be single as last and you want to spoil yourself than to treat yourself to a bottle of Champagne / Prosecco / Cava / Spumante etc!
If you decide to pop in to Aldi then prices start from just £4.99 for something fizzy with their Spumante and Cava options and you can work your way up to £19.99 for their 2003 Vintage Champagne.
So, what can we expect when we opt for supermarket fizz at Valentine's Day? Aldi sent me three bottles of their bubbly to review:
Veuve Monsigny Champagne Brut – Of the many Champagne labels from supermarkets that are used to attract the footfall, so I call them, I do not mind the Veuve Monsigny from Aldi. It gives all the flavours and aromas that a Champagne should, it is lively in the glass, powerful in the aromas and flavours with citrus, fruity and brioche notes. A simply Champagne yet will be highly effective for just £10.99 to spice up the evening ahead.
Exquisite Crémant du Jura – Crémants are another sparkling wine from France though as they are not within the designated growing area of Champagne they call themselves per their region, ie the Crémant du Jura here, or you can have Crémants from Alsace, Bourgogne, Bourdeaux etc. The Exquisite gives a good example of a Crémant with a citrus, pastry and crisp yellow/green apple tasting experience – Not too complex and easy to drink – The ideal bottle of bubbly to have in the fridge for any occasion!
Crémant De Loire Rosé – Another Crémant yet this time a rosé. Many ladies that I know prefer their rosé fizz over whites so this will no doubt please many on Valentine's Day. Here we have a very different experience with more summer berry fruits on the nose and flavours, slightly dry, yet crisp and refreshing.
Christopher Walkey
Co-founder of Glass of Bubbly. Journalist and author focused on Champagne & Sparkling Wines and pairing them with foods.